OPINION: Women Coal Miners Step Up To Support Workmates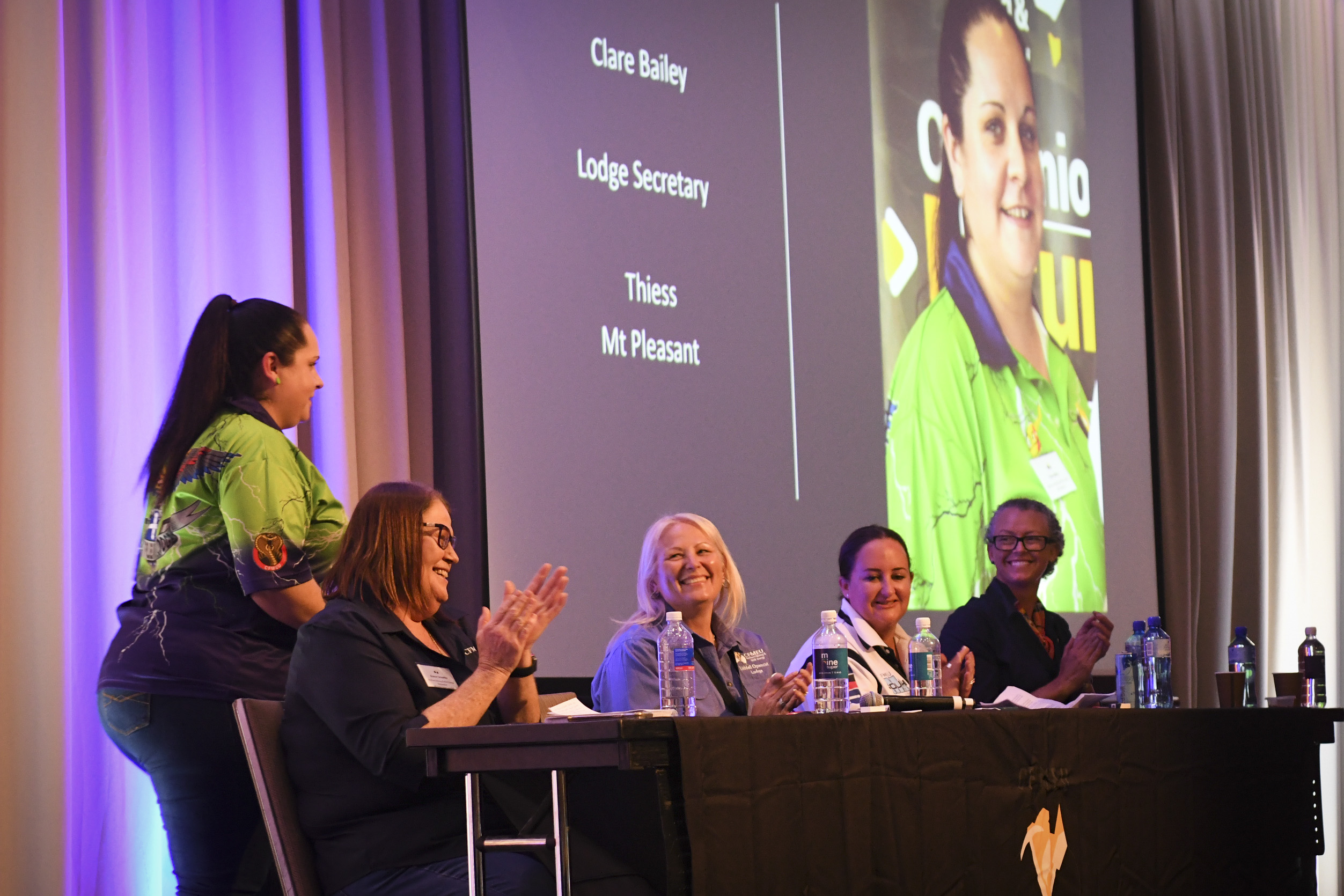 Mining is still a male-dominated industry, but more and more women are joining the industry and taking a leading role in our union.
Our recent Annual General Meeting heard from five outstanding women coal miners and union activists.
I was very proud of their contribution at our AGM and I'd like to tell readers a little bit about each of them.
Clare Bailey started in the industry 10 years ago and after six years as a casual got a permanent start at Mt Pleasant. She was one of the first people to start work at the greenfield site.
As worker numbers grew, Clare was instrumental in setting up a union Lodge and is now our Lodge Secretary.
Clare was motivated to get involved in the union because she'd received support over an incident at work, where she'd been wrongly blamed.
"I realised that there are things you can do to protect yourself and your workmates. Knowledge is power," Clare said.
"Being active in the union has been really character-building and given me experiences I never thought I would have. I'm much more confident now."
Jodie Cam has been working in Hunter Valley coal mines for about 18 years but started her mining career in Western Australia and the Northern Territory.
She is now Lodge Vice President at Liddell Open Cut. Like Clare, Jodie's own experiences of being involved in a workplace dispute – resolved in her favour with union support – inspired her to offer the same support to others.
Jodie is committed to giving her workmates support if they are called into a meeting with management, which can be intimidating.
"It makes a big difference to have someone with you, to make sure you are represented, help process information and just take a break if you need to."
Mel Shore is the first female site safety inspector in our District, at Mt Arthur South.
While she's had many firsts since starting out in a small gold mine in Cobar, Mel's message to our AGM audience was to pay attention to all the hazards on site and celebrate their own firsts in standing up for safety, like: "the first hazard you filled out and cared enough to chase up with the company, the first time you pulled up a run because the roads weren't up to scratch, the first time you tagged out a tired workmate so they could manage their fatigue."
Kerry Koneiczny joined the industry at Camberwell Coal in 2002, first as an operator then a shotfirer. She moved to Ravensworth where she became the female site delegate and then Lodge Secretary and is now at United Wambo. Kerry sits on our District Board of Management.
Kerry played an important role in building union density at Ravensworth through persistently checking records and following up with people. She made sure contractors knew the union could represent them. Kerry made the important point that female union delegates aren't just there to support female members.
"Women can bring a different approach to the delegate role which is valuable … but they aren't just there to support the female members, they are there to support all members." 
Sharon Smoothy started out in the industry 20 years ago at Mt Arthur coal mine where she still works today.
Sharon became a workplace delegate before joining our District Board of Management and she now sits on our Central Council. That gives Sharon an important voice in national decisions regarding our union's direction.
Sharon reflected that the lack of other women on the job made for some lonely and isolating times when she started out. Like many other women in mining, one of her first battles was over getting a toilet.
Now she says, "I'm so proud of all the women in our industry and the work they do – we've come a long way."
I am proud of them too and look forward to many more women coal miners stepping up to fight for better, fairer workplaces.
Peter Jordan, CFMEU Northern Mining and NSW Energy District President