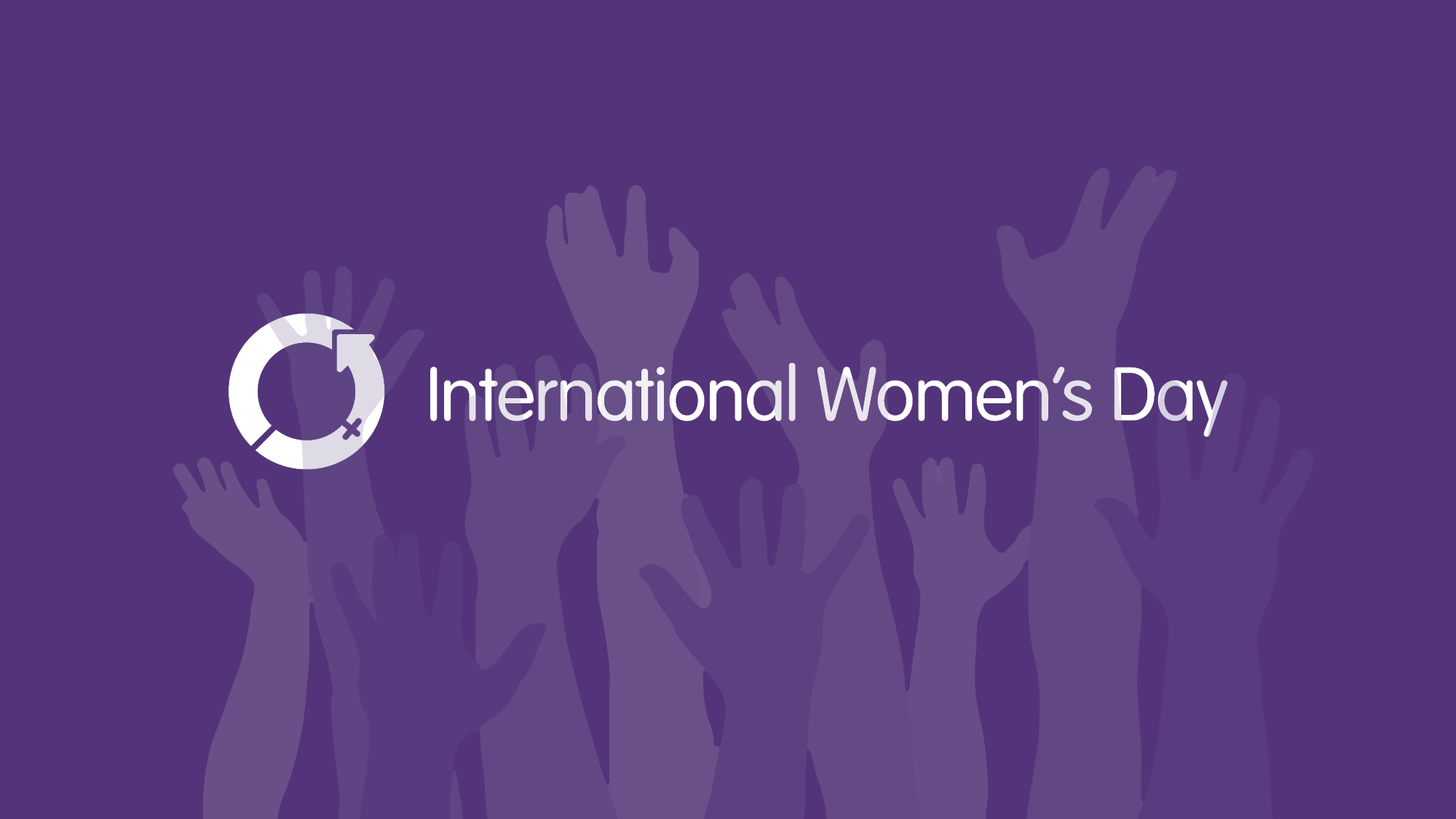 This year we celebrated women everywhere for International Women's Day 2021 under the theme Choose To Challenge. Held on March 8, we saw both the men and women of our industry take action for equality and stand up and speak out in recognition and celebration of the achievements of women in mining.
Mastermyne/Wilson Mining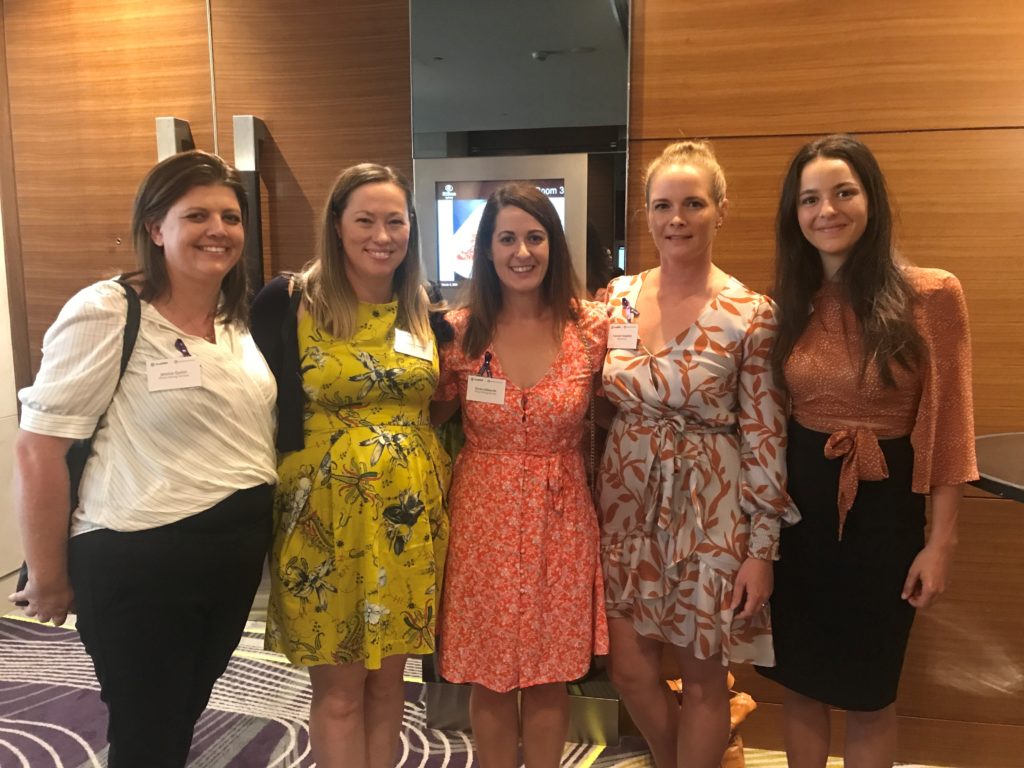 In celebration of International Women's Day 2021, the Mastermyne/Wilson Mining team attended the AusIMM International Women's Day Luncheon on March 8 in Sydney to celebrate the achievements of women in mining. CSIRO's Chief Scientist Dr Cathy Foley gave a keynote presentation, inspiring attendees on how they can choose to challenge gender stereotypes, celebrate women's achievements and collectively create an inclusive world. "The learning from the day was that to create change we need to challenge those gender bias and inequality concepts," said Karen Wilson, Sales & Marketing Coordinator, Wilson Mining.
"We were able to acknowledge how far women have come while reminding ourselves of the progress we still need to make."
"I choose to challenge…creating a positive space of empowerment for other women in the workplace."
– Karen Wilson
Coal Services
To acknowledge the day, teams in each of their regions across NSW were encouraged to host morning teas or (meet virtually over zoom) to talk about what the day means to them and how they will choose to challenge gender stereotypes. "At Coal Services, International Women's Day reminds us that we all have an important role to play in ensuring diversity and equal opportunity," said Lucy Flemming, CEO, Coal Services.
"Across our business we have women and men working in traditional and non-traditional roles, for example administrative roles and occupational health nurses, mines rescue cadets, occupational hygienists and IT specialists."
"I choose to challenge…
the stereotype of what some people think a successful leader should be. It is not about whether they are male or female. It is not the suit they wear or the car they drive – it is who they really are, what they stand for and how they earn the right to be a leader. Respect is earned and cannot be demanded. Leadership is a constant balancing act of strength and empathy; a balance that you sometimes feel you never get quite right but wake up every morning with the courage to give it another go!"
– Lucy Flemming
MACH Energy
Omnipotent, limitless and passionate were just a few of the words suggested to feature on a letter board put together by the Mount Pleasant Operation team in celebration of International Women's Day. "On IWD over quiche and cake, our team discussed the words that came to mind when thinking about the women in our lives," said Ngaire Baker, External Relations Manager – Aboriginal Community Development Fund Executive Officer, Mount Pleasant Operation, MACH Energy Australia.
"We're proud to support #IWD and strive to support the women in our business and community each and every day.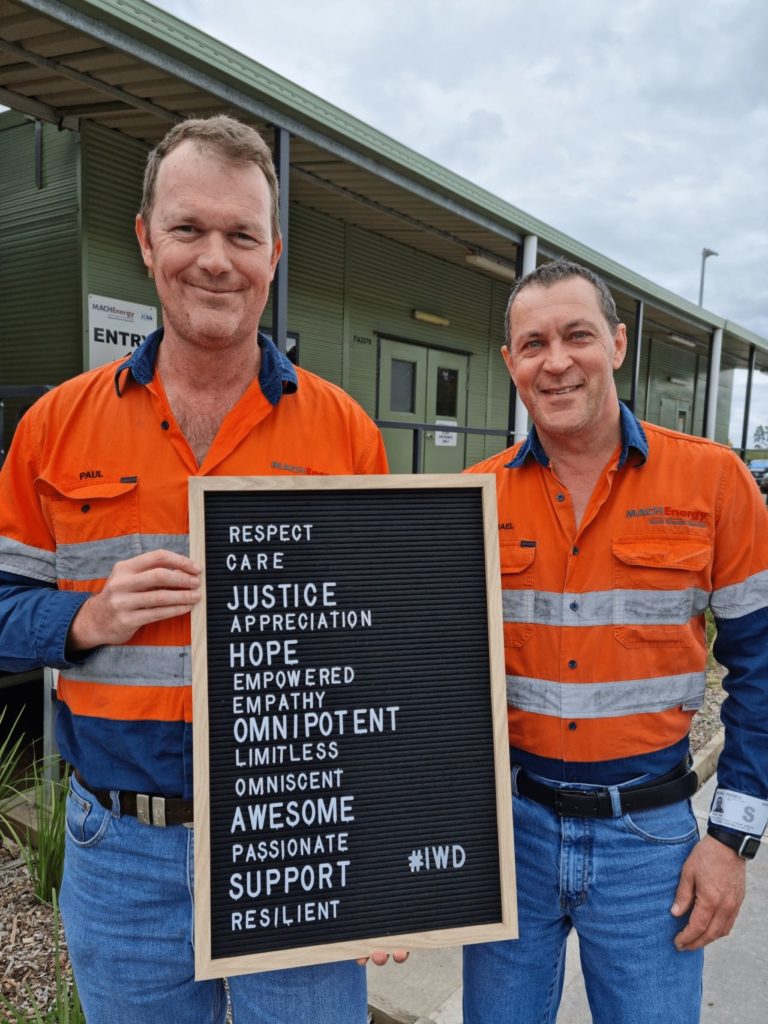 "Like all things at Mount Pleasant I like to think 'outside the square' and didn't want IWD to just tick a box. I wanted the team to take a joint approach; I wanted everyone to think about all the women in their lives not just at work but in all they do, that's why I asked them to come up with a word."
"So, in terms of what I choose to challenge, I guess it is 'the norm'."
"I choose to challenge…what has become normal in our industry, to encourage our team to think outside the square."
– Ngaire Baker
WesTrac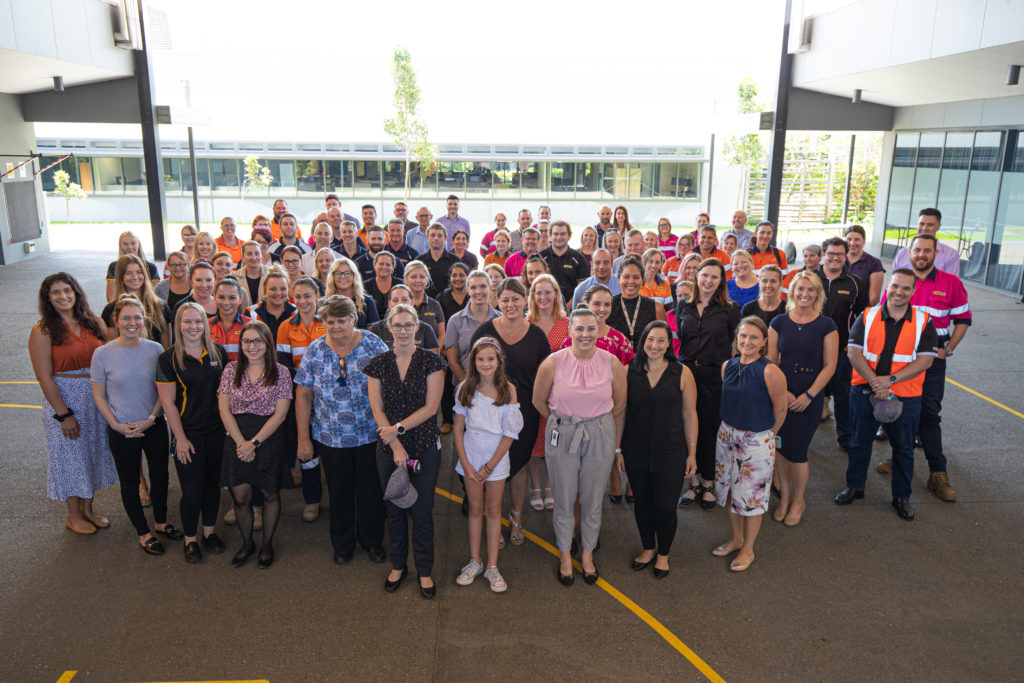 WesTrac held an event at their Tomago branch head office for IWD2021, inviting all local employees to attend and hear from guest speakers who gave presentations on their personal journeys, and how they have been helping to create and advocate for gender equality. Among those guest speakers was Adrian Howard, Chief Operating Officer for WesTrac and his daughter Elliana Howard, an aspiring architect aged 11. The event was also live streamed so employees who couldn't attend in person could still participate. "The key takeaway from our celebrations was that we all need to be advocates for women, especially in the workplace," said Claire Pavey, People & Culture Advisor, WesTrac.
"We need to challenge our mindsets and our practices and ensure we continue to measure our progress towards a more gender balanced workforce, and as individuals we need to support each other and recognise the value of the contribution of individuals."
"I choose to challenge…by being a driving force behind improvements to policies, practices and championing a workplace culture that supports and enables women to have a rewarding career in our industry."
– Claire Pavey
BHP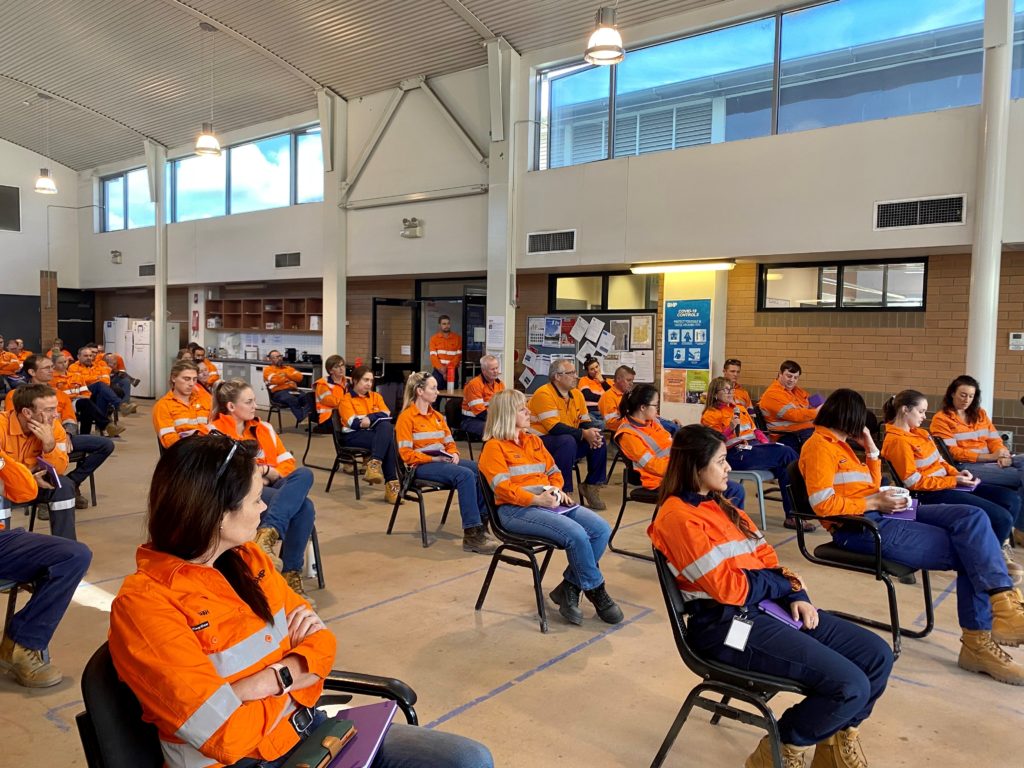 This year, International Women's Day at BHP / Mt Arthur Coal was all about having those important conversations. Over the course of the week the BHP team heard from a variety of females and males on what they #choosetochallenge including those at BHP's own Mt Arthur Coal Lunch & Learn event. "These fantastic role models put the challenge of gender equality to our workforce, asking us to be curious, to become educated, to open a dialogue and have the tough conversations, and to recognise that diversity and inclusion doesn't stop at our gate; it goes beyond," said Adam Lancey, General Manager, BHP – Mt Arthur Coal.
"On #IWD2021 I have been inspired to see many of our 2,000 strong workforce walk out of Mt Arthur Coal with their eyes open to the benefits and possibilities of gender balance."
"We have collectively recognised that diversity is not a problem but a solution that can drive better outcomes for our teams, business, community and broader society."
"I choose to challenge…by playing a small part, where I can, in supporting and challenging females within the industry to achieve their possible!"
– Adam Lancey
CR Mining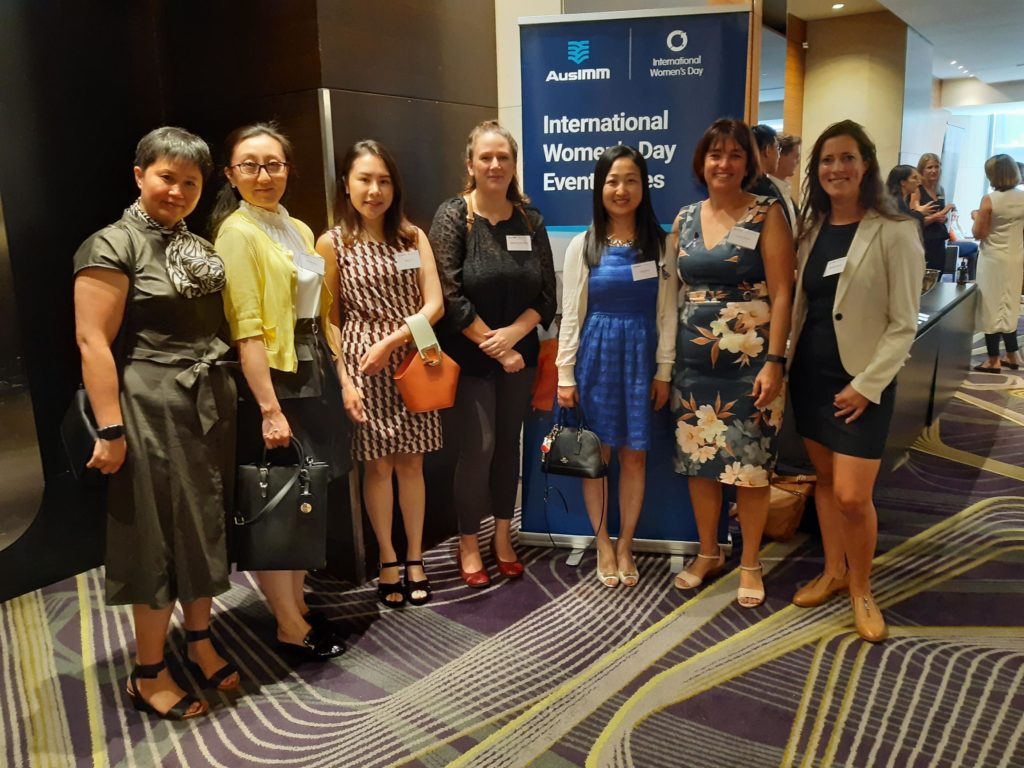 Across the globe, CR employees celebrated their female talent and International Women's Day on March 8. Locally, the team at CR attended AusIMM's International Women's Day event in Sydney and heard from a variety of speakers including Australia's Chief Scientist, Dr Cathy Foley. "One of the main themes discussed on the day was the importance of female support, and ensuring we promote and celebrate the amazing achievements women accomplish," said Stephanie Saunders, Communications Lead, CR Mining.
"I choose to challenge…
inequality by celebrating female achievements."
– Stephanie Saunders