My Mining Life – Jai Brook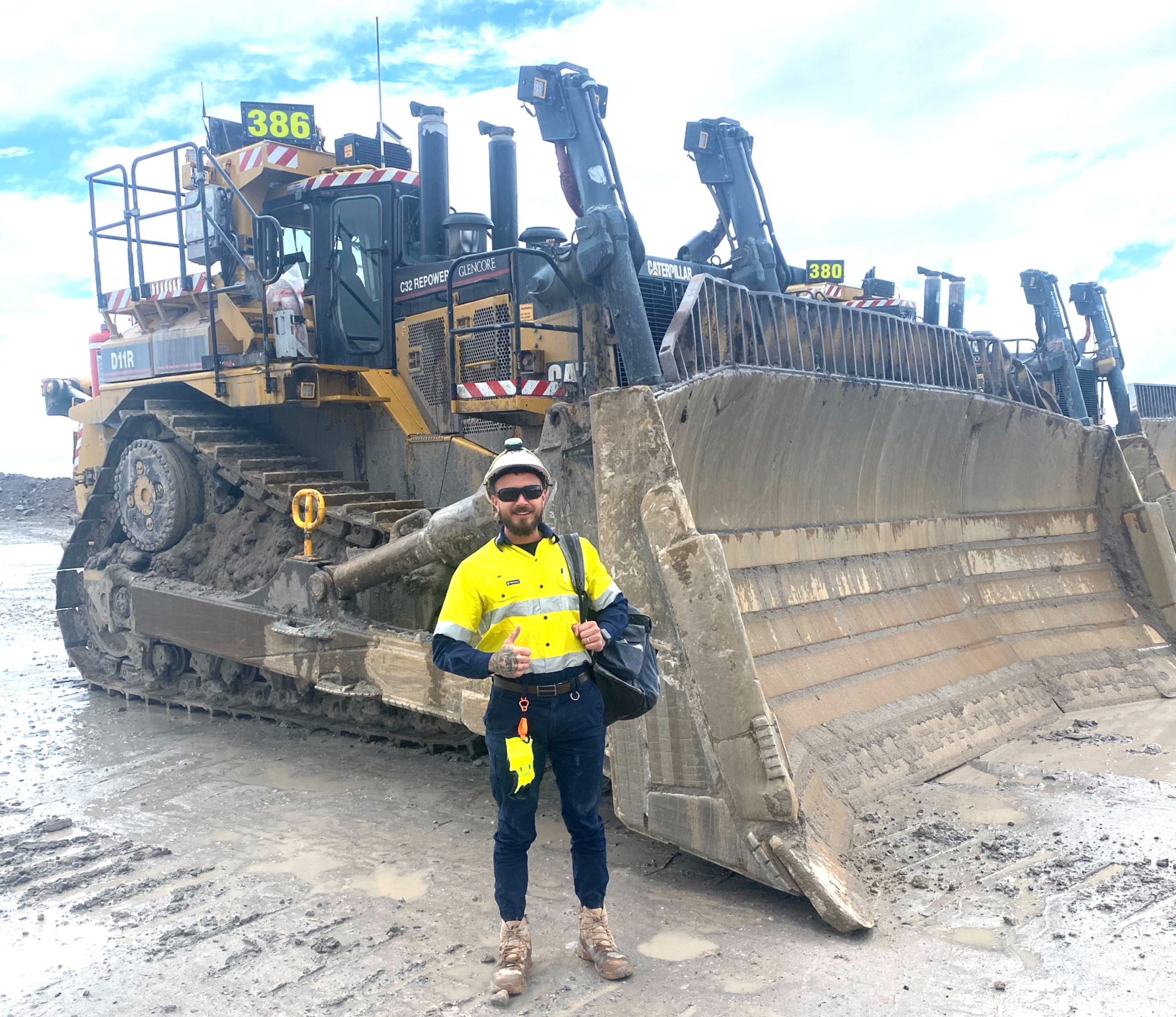 Who are you and what do you do?
My name is Jai Brook, I'm 26 years old and currently work at Bulga Open Cut employed by Glencore as a multi skilled operator.
When did you start in the mining industry and what was your first job?
I started open cut mining in 2016 as a trainee driving the haul trucks 789-797 models which led me to now being a dozer operator.
How different is your job now to what you wanted to be when you were a kid?
When I was younger, I wanted to join the army. You could almost say it's on the same line when you're the dozer operator on a busy dump haha
What's a usual day at work entail?
Always start the day off with a coffee and a prestart pump up with the crew. We will thoroughly go through a detailed prestart meeting and if necessary, a 1 on 1 conversation with the OCE about the allocated task we have received. I'll head out to my job and machine and do an area inspection and a 103 inspection on the machine I'm operating. I'll then carry out the task I've been allocated to complete. We work the lifestyle roster with 12.5hr day/night shifts with 2 crib breaks a shift.
What's the best thing about your job?
Easily the culture – we are surrounded by great values and enthusiasm. Spending 13+ hours at a site with a good bunch of people that I now call good mates makes my mining career even more enjoyable.
The worst thing?
Besides when you're on your last shift and your about to go on your 5 days off…there's nothing. I'm grateful to work where I work.
What's the biggest challenge you've had to overcome?
Trying to juggle work/business/husband and father role. I haven't mastered it yet but always trying my best.
What has been your proudest achievement?
Work related – getting a full time job with Glencore and being upskilled.
At home – my wife and I becoming parents to our beautiful boy Harlyn who is now almost 3 years old.
What's something about your job that would surprise people to know?
The challenges we face daily. We are touching parts of the world that have never been seen before so a lot of things can change, and hazards can arise.
What's a funny story about work that you can tell?
There's a lot of funny work stories I have locked away but funniest thing we have on crew are the nicknames.
There's a dirt mover (myself), earth mover, dirt worm, dirt whisperer, dirt destroyer, etc. There's a dirt name for almost everyone LOL
What do you do in your downtime?
Besides trying to be the best husband and father I can be, working out, going away for family trips, I myself and 2 mates/business partners, currently own and direct an activewear company called aftrmth active. (www.aftrmth active.com) We started the business to start conversation and spread the message around mental health and suicide prevention. In our 2 years in business, we have been quite successful in delivering our message and we look forward to always striving forward to making a change and helping those around Australia and soon to be the world.
The mining industry gets more than its fair share of criticism. What is your view of our industry and the impact is has?
I can openly say our mining group and a lot of other mining companies do a lot for their local community. Whether it been fundraisers, financial contributions or building a new park for the local kids, we really do give a lot back which makes me proud to work in the mining industry and I think everyone should feel somewhat proud when they are representing a company.