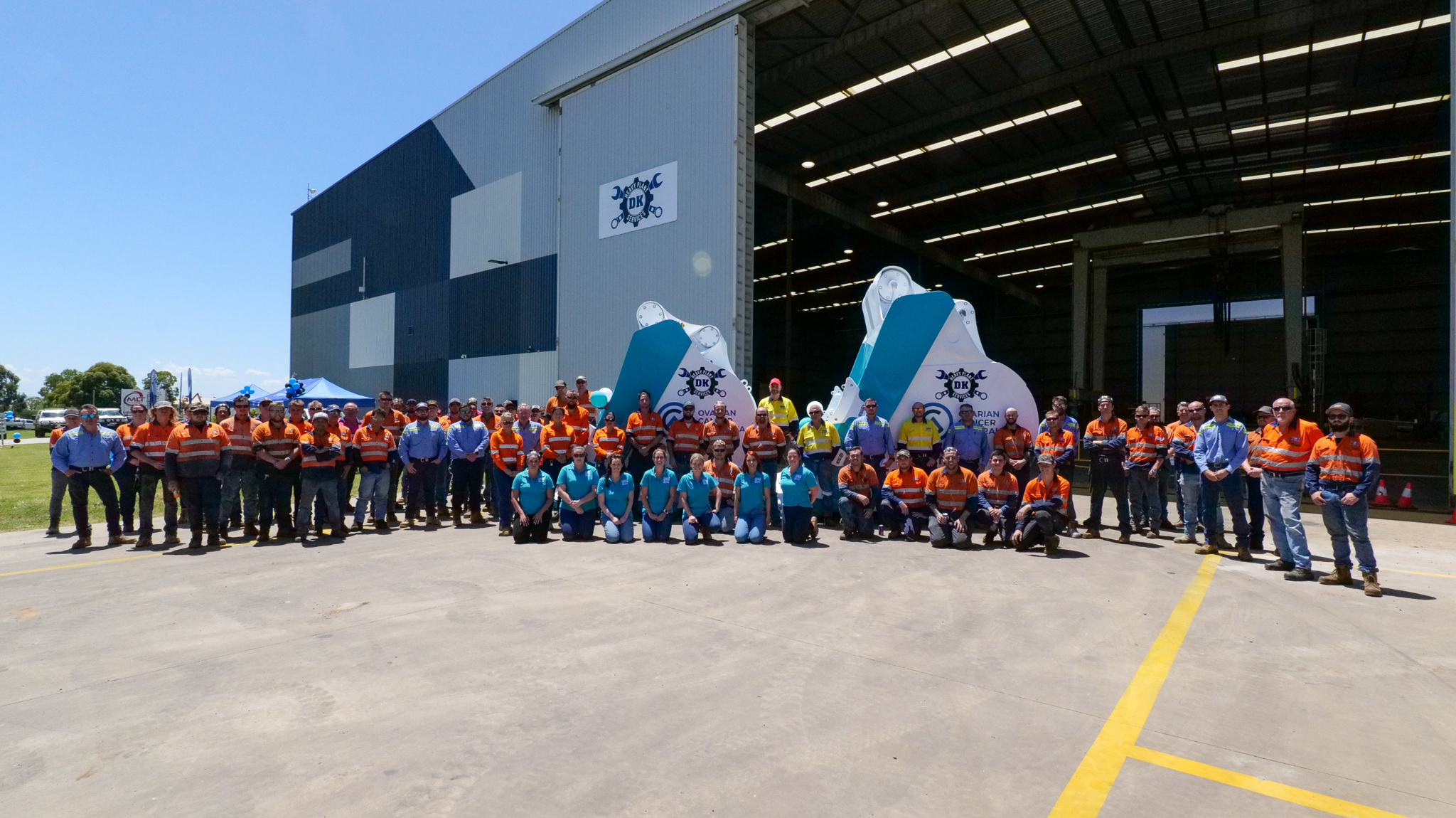 The DK Heavy Plant Services team banded together for a day of games and fun on February 5, raising awareness and a whopping $4,555 for Ovarian Cancer.
The Fundraiser was held at the DK Heavy Plant Services (DKHPS) facility on Thomas Mitchell Drive in Muswellbrook, with a set up out the front of the sheds showcasing a Hitachi EX5500 & EX3600 bucket that the team had completed major structural component replacements on and painted to support Ovarian Cancer Australia.
Each month DKHPS supports a fundraiser, having supported organisations like R U Okay Day, Breast Cancer awareness and other various charities in the past, this month supporting Ovarian Cancer Australia in light of Ovarian Cancer Month. "When choosing the charity for February to support, we started to do some research and it just happened to be Ovarian Cancer Month in February," said DKHPS Administration Assistant, Michelle Meissner.
"We conducted further research and found that ovarian cancer Australia doesn't receive as much support as other charities and that ovarian cancer is a silent killer effecting a lot of women in Australia."
"With more and more women entering the mining industry it was a great opportunity to show our support to women both within our workplaces and mine sites."
The morale on the day was high and every member of the DKHPS team were really keen to get involved, from egg and spoon races and sack races to ball toss games. They also 'auctioned off' each off the participants to the highest bidder to raise money. "The auction on the day raised an amazing $4555, all donated by our employees, suppliers and clients," said Michelle.
"It was a lot of fun watching the guys race and there were some 'hot' contenders on the day."
The final event of the day was a "tug of war" of apprentices versus tradies and tensions were running high, with the apprentices coming out on top. "But the biggest highlight was seeing everyone come together from different companies and mine sites to support an amazing cause," Michelle concluded.
A big thanks to the DKHPS team for a great day for a great cause and also to those who participated from Hunter Valley Operations, BHP Mt Arthur, ESCO, Allweld Muswellbrook, Warburton Estate Agents, Hunter Valley Lubricant, Top Dressed, Elite Air and Electrical, Biglift Cranes and Heavy Haulage, Muswellbrook Floral Studio, Muswellbrook Signs, Hydraulink Muswellbrook and Muswellbrook Domino's.