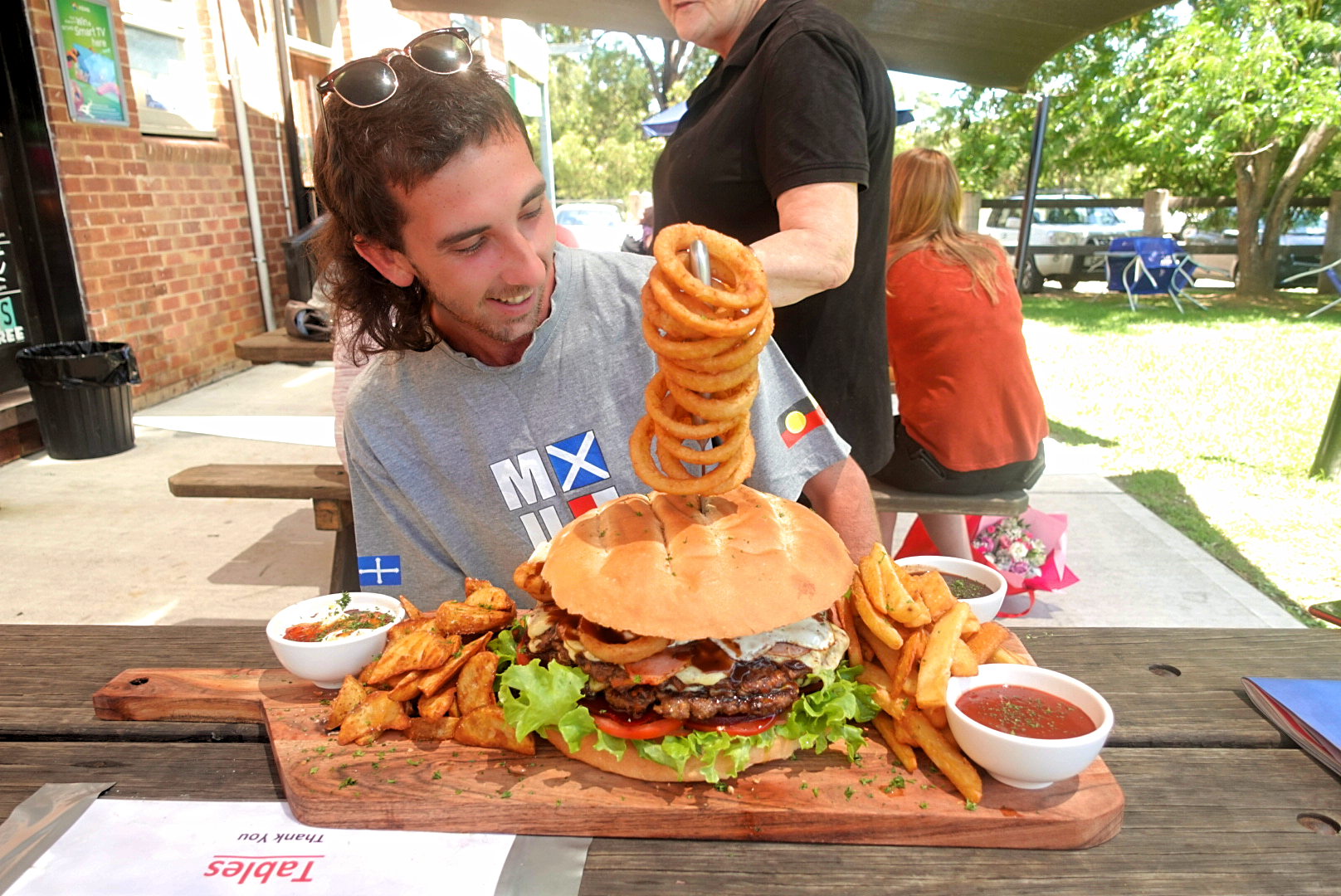 Mate…I can't even begin to describe the size of the new monstrous burger challenge at the Khartoum Hotel, but I can describe how spectacularly we failed said challenge.
A few weeks ago, I was scrolling through Facebook only to come across the biggest burger I have ever seen. A bit of research led me to the Khartoum Hotel in Kitchener, and I was hooked on making one of my mates give this never before completed challenge a go.
Not brave enough to take on the beast of a burger myself, I was lucky enough to rope in my mate Jonesy, a somewhat willing but nervous participant.
It started off with a delightful drive out to Kitchener, a lovely little town with a stunning country style pub. The sun was shining, we grabbed a couple of VBs and took a seat outside in the beautiful beer garden. We were excited for a moment, but that excitement very quickly turned to fear.
The pub was very busy for a Thursday lunch, so I jumped up to place our order at the bistro. I ordered the 250g Rump cooked medium rare, with a creamy garlic prawn topper and a side of chips and salad. I then put in poor Jonesy's order, the Khartoum Hotel Burger challenge.
After a chat with staff, we discovered 22 people had attempted the challenge before us and all 22 of those people failed, and we now understand why. The staff looked at my slender mate and had the doggy bags ready and waiting before he'd even taken his first bite, but that didn't discourage good old Jonesy. "It's not the size of the lion it's the fight of the lion!" he roared. And he was off.
Meanwhile I tucked into my wonderfully cooked, juicy steak. The creamy, garlic prawn topper was a brilliant choice and overall, it was some simply awesome pub grub. I then looked up into the pained eyes of a man who had hit a very hard wall.
To better paint the picture, here is a list of everything you need to consume in just 30 minutes when attempting the Khartoum Hotel Burger challenge – 1 x 500 gm bun, 2 x 500 gm meat patties, 6 x slices of bacon, 4 x eggs, 8 x slices of cheese, 20 x onion rings, 1/2 head of lettuce, 3 x tomatoes, 3 x beetroots, BBQ sauce, 500 gm wedges, 500 gm fries, 1 x 160 gm bowl BBQ sauce, 1 x 160 gm bowl tomato sauce and 1 x 200 gm bowl sour cream and sweet chilli sauce.
Jonesy paced himself as soon as we started the clock but clearly, he paced himself a little too much. Not even a quarter of what was on his challenge board had been eaten at the 30 minute mark and he was done. "Doggy bags," he mumbled in defeat.
It was clear this lion needed to go home to sleep off his food coma. We packed the rest of the burger and sides into 3 doggy bags and headed home.
The Khartoum Burger challenge is something not to be attempted by the faint of heart and pictures simply don't do it justice. It is one big bloomin' burger. And after nibbling on Jonesy's leftovers when we got home, I can say it's one bloody delicious burger as well.
So head to Kitchener and try the Khartoum Burger challenge at the Khartoum Hotel. If you dare.