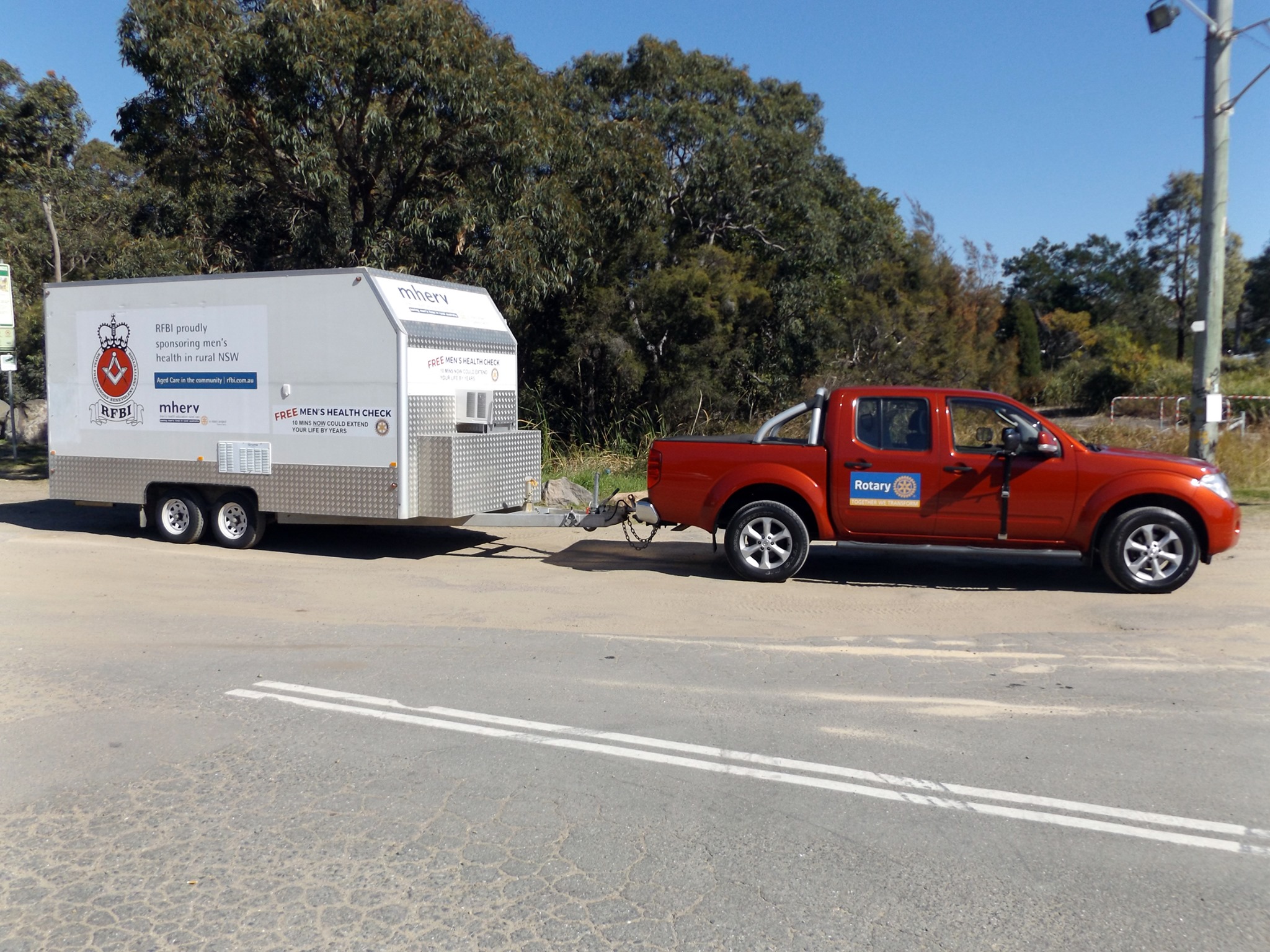 The Men's Health Education Rotary Van (MHERV) is a Rotary project made possible by fundraising, generous sponsorships and hardworking volunteers and it will be soon hitting the road here in the Hunter.
This custom purpose-built caravan is decked out with two consulting rooms and a full time Registered Nurse onboard and travels throughout the state offering free health screenings to regional and rural men.
In 2008, Rotarian Tony Mackenzie began discussions with the General Manager of Western District Hospital in Mudgee, Joy Adams, about the incidence of late presenting, poor health events among rural men.
With Joy's help and that of Registered Nurse Andrew Whale, Rotary began by borrowing an old caravan, which they took to towns in the western districts of NSW.
It was decided to try to screen middle aged and older men in NSW rural communities to see if simple tests could identify men's health issues earlier, thereby bringing them to a doctor before otherwise treatable conditions became too serious.
At first they discovered a reluctance by men to be tested. "I'm ok … don't need that"… "She'll be right" being the attitude used to excuse themselves from anything to do with their health. But as time and experience began to teach them, the team developed techniques to persuade men to be in it.
Rural men are notorious for being completely in the dark about the state of their health. For most, there is no culture to see their doctor for a regular check-up, indeed it could be said that many men are afraid to do so in case they are told something they wouldn't like to hear.
Consequently, conditions like high blood pressure, high cholesterol and high blood sugar which have little or no apparent symptoms, can build up and lead to sudden unexpected death or long term incapacity.
That's why spending as little as 5 minutes in the MHERV van can only bring good news. Either the tests show no reason for concern or at the other end of the scale it may be recommended that immediate medical attention be sought for treatment that would bring the condition under control, possibly saving a life!
This little idea has now turned into a success story. In the next 5 months, MHERV will visit 36 stops and help countless men. Perhaps you'll be one of them.
THE MHERV 2021 HUNTER LINE UP
Cessnock – 13th & 14th February
Singleton – 16th & 15th February
Denman – 19th & 20th February
Muswellbrook 23rd & 24th February
Dungog 26th & 27th February
For a full list of dates check out their Facebook page: https://www.facebook.com/MensHealthEducationRotaryVan
To make a much needed donation go to:
https://mherv.com.au/product/donate-to-mherv/