Supplier Insider – DGI Trading Australia
Tell us about the business?
My name is Craig Smith and I'm the Workshop Manager at DGI Trading Australia. DGI supplies late model new, rebuilt and used OEM machinery and components to the mining sector. We specialise in the purchase and recycling of late model Caterpillar, Hitachi, Komatsu and Liebherr machinery for re-use in mining applications.
We're an international operation – our global supply network allows us to source hard-to-find parts and machinery from the most remote locations in the world. DGI services customers in over 30 countries – a large number of those right here in the Hunter Valley.
How long have you been doing business, and business in the Hunter Valley?
DGI has moved into its 13th year of operation in 2021. We've been working closely with mining businesses and sites in the Hunter Valley since day one, with many of these relationships extending far beyond this point. Although our facility is just north of the Hunter, we have dedicated Business Development Managers on the ground here. We offer same-day express freight options, maintaining a seamless supply chain to the Hunter Region and minimising down-time for our clients.
Where did you start and how did you end up where you are now?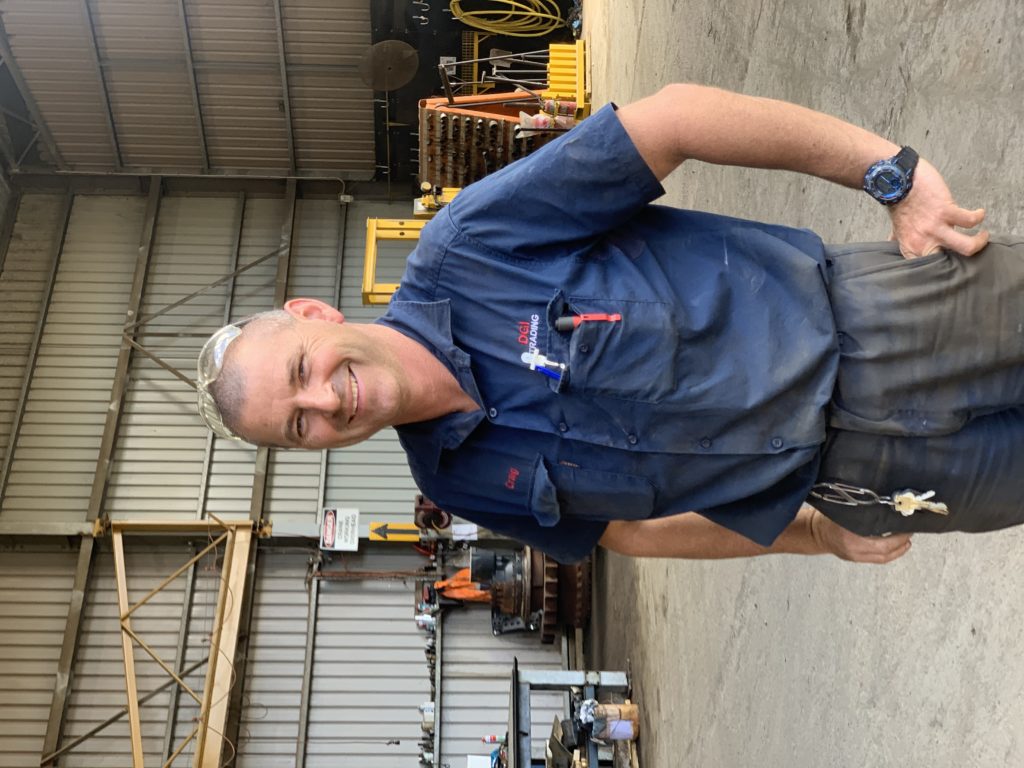 My career began with machining, fabrication and mechanical work for our family business in Gunnedah. I moved to the Hunter Valley in 2000, where I've spent 20 years in many workshop and heavy crew supervisor roles within mining operations such as Thiess and Glencore, across sites like Mt Owen, Ravensworth and Mt Pleasant.
In 2020 my wife and I made the lifestyle decision to make a sea-change to Port Macquarie, around the time I came across to DGI Trading. This role combines industry and product knowledge with the lifestyle we sought, and we couldn't be happier on both fronts.
Describe a typical day at 'The office'.
Our facility in Kempsey is our central point for product works, warehousing and dispatch. We continually have stock arriving from around the world, so our workshop and logistics teams are focused on inspecting stock, undertaking necessary works and preparing and warehousing inventory for resale.
What's the best thing about the business?
It's really the ability to work not only internationally, but also remain closely connected to the Hunter Valley where I've spent the most part of my career and still have so many great relationships today.
What is the big news in your part of the mining industry right now?
Despite fluctuations, particularly around coal export, we continue to grow and are as busy as ever.
What are the biggest challenges facing your business?
Although a challenge shared by many, our business typically relies on the ability to jump on a plane and fly to any number of countries to inspect mining equipment for purchase. As with much of the world in 2020, we have adapted to be able to continue to effectively source and supply mining equipment and components.
What is the biggest opportunity for your business right now?
Markets in 2020 highlighted the need to lower operational costs, giving us the advantage of being a cost-effective alternative to supply OEM components and machinery. The strain on global logistics seen last year has given us an opportunity to focus on our agility, particularly for customers such as those located within the Hunter.
Community or other causes close to its heart and values?
DGI supports communities around the world. Much like the Hunter region, the Macleay and Hastings Valleys where we live are small places, focused on a sense of community and supporting each other. We sponsor various local surf clubs and sporting teams, particularly those where our children participate. Internationally, we have sponsored local sporting teams like the Utah Grizzlies baseball team, through to industry events in Africa. We believe in actively supporting the communities in which we operate.
We recently sponsored Toby Price's Red Bull Finke Desert Race trophy truck, with whom we have a great relationship and love to watch and support his endeavours as I know everyone does!
Anything else you want to say?
In my time with DGI, I love being able to remain so close to the Hunter Valley relationships I have built over the years.