My Mining Life – Nick Wild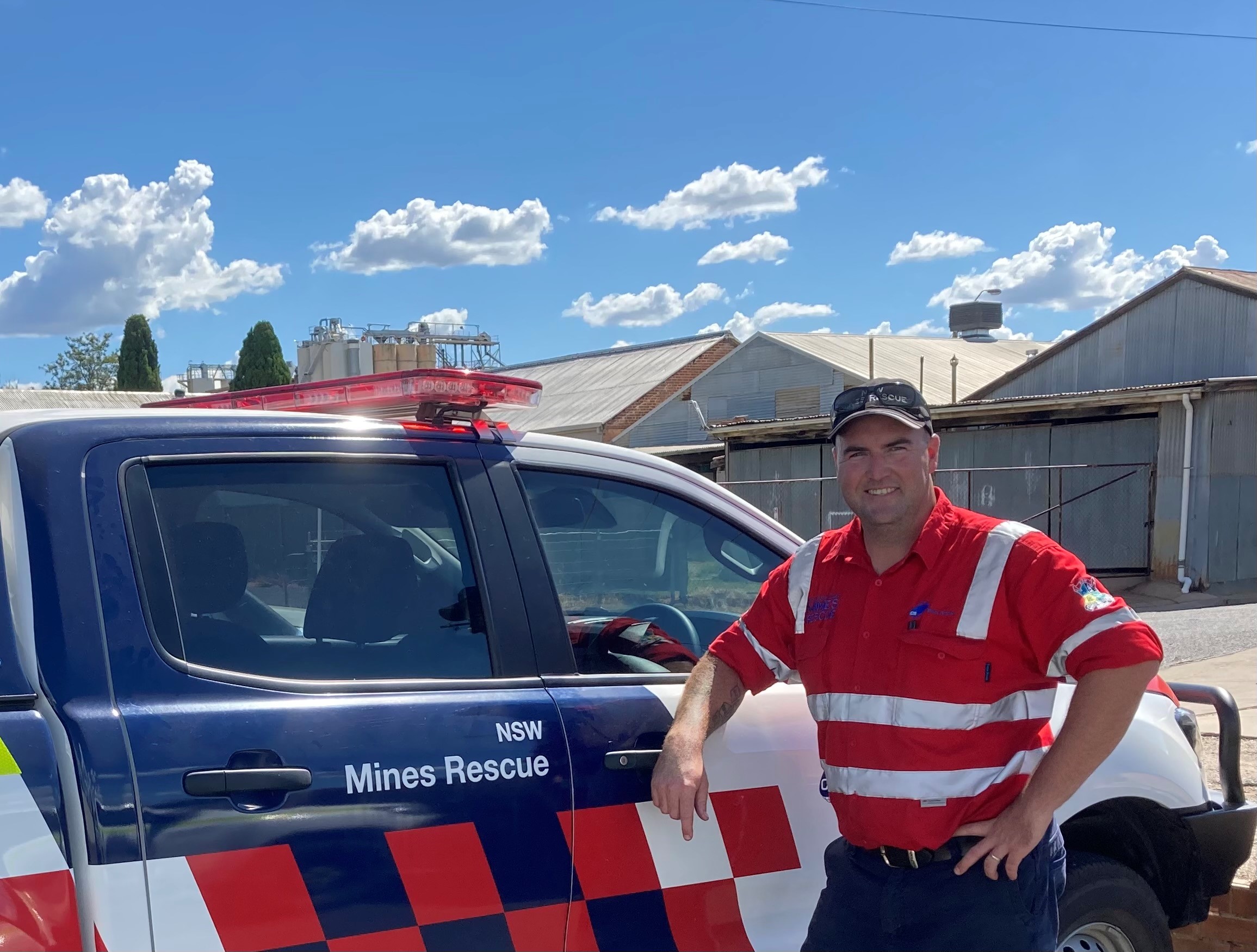 Who are you and what do you do?
I'm Nick Wild and I'm a Training Officer for Mines Rescue.
When did you start in the mining industry and what was your first job?
Having been raised in a mining family in the Hunter Valley, I myself commenced in the industry in 2008. My first job was an operator with a civil mining contractor, working on rehab projects on open cut sites. The role provided me with the skills needed to work with various pieces of machinery and I gained knowledge on the mining process. I was then successful in getting a cadetship at Hunter Valley Mines Rescue commencing in 2011. I think those early experiences were really the foundation for my career so far.
How different is your job now to what you wanted to be when you were a kid?
As a kid, I really wanted to join the Air Force or Police. The training side of my job is a world away from that. Our company's purpose is 'to protect' so I feel I am still making a difference through our safety training.
What's a usual day at work entail?
We generally start with a brief team meeting before moving into the day's training. We have a training plan for each course or topic to be delivered which is important to ensure that we give participants the best possible training experience and provide them with the competencies and outcomes they need. Our trainers call upon their own experiences and encourage participants to share theirs too which helps make the content more real, and relevant to the class.
What's the best thing about your job?
The job offers a lot of variety due to the range of courses we offer and how and where we deliver the training. I also get to meet new people. Seeing them return for more training and how they have advanced their skills is really rewarding.
The worst thing?
Nothing. I am fortunate to work with a great team.
What's the biggest challenge you've had to overcome?
Having the confidence to back myself throughout my career has definitely evolved thanks to the different roles and opportunities I've had since I started in the industry.
What has been your proudest achievement?
Being able to come back to Mines Rescue as a Training Officer is a definite standout. I knew when I completed my cadetship in 2012 that that's where I wanted to be.
I am also extremely proud to have been part of Narrabri Coal's mines rescue team. In 2018 we won the regional competition and went on to compete at the Australian Mines Rescue Competition in Queensland. The effort and teamwork we put in over the years was all worth it, and the mateship that was forged in the years leading up to making it there will last a lifetime.
What's something about your job that would surprise people to know?
Many people don't realise that Mines Rescue doesn't just service the mining industry. Our people have a vast array of skills and experience which enable us to offer training and consultancy services across many industries.
What's a funny story about work that you can tell?
There are many funny stories but none that are likely to be appropriate for this article. LOL
What do you do in your downtime?
Outside of work it's all about family. I have three active boys and so we try to get out camping and fishing in between sporting commitments.
The mining industry gets more than its fair share of criticism. What is your view of our industry and the impact is has?
Our industry is often overlooked for all the good it does in the community, both directly and indirectly. The employment opportunities and careers that relate to our industry, as well as the financial contribution to our communities is extraordinary. I'm proud to work in the mining industry and am extremely thankful for the rewards it has given me.