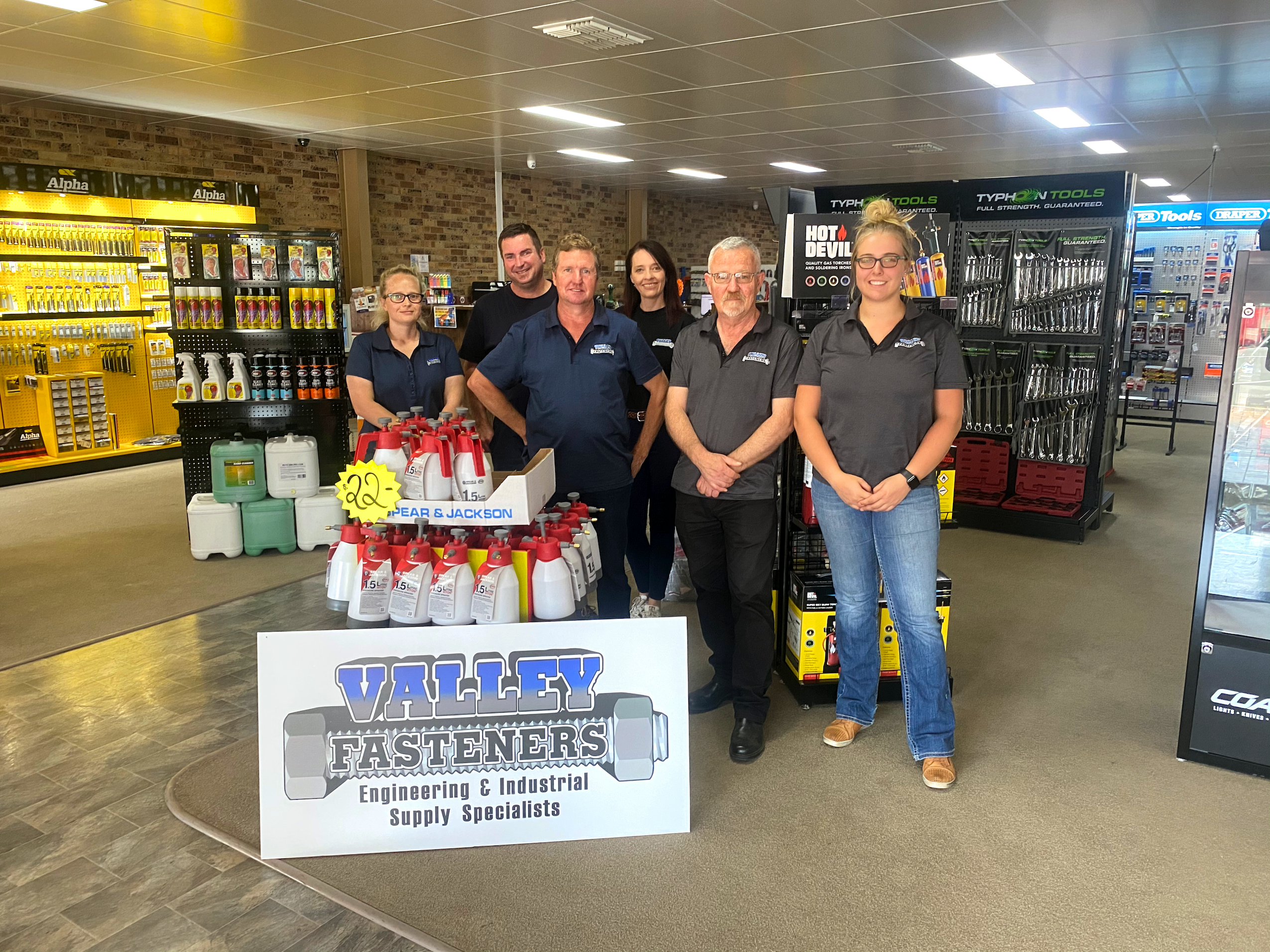 Valley Fasteners opened their new Branch in Gunnedah on September 10, already engaging and connecting with the local community.
Australian and family owned business Valley Fasteners was first established in 2006 in Rutherford by husband and wife team Scott and Kristy Boyton. With three NSW branches in Rutherford, Muswellbrook and now Gunnedah, Valley Fasteners has quickly extended well beyond fasteners.
The business has become a one stop shop with availability to more than 100,000 products across a broad spectrum of categories including Safety and PPE, Abrasives and Cutting Tools, Welding and Materials Handling, Washroom, Paints and Lubricants, Hand and Power Tools.
Their success across a number of industries has grown rapidly since first opening their doors in 2006, and one of the key reasons for this is the connections they have made with their local communities, customers and businesses.
Open only a couple of months in the Gunnedah shire, Valley Fasteners have already sought ways to engage and support the local community starting with their 'Grill and Give Back' initiative.
"Given the retail aspect of the Gunnedah store we have the opportunity to implement some additional ways to help raise funds within the community and commenced the first of what we hope will be many community initiatives with our 'Grill and Give Back' sausage sizzles on Saturday mornings," said Kristy.
"Each Saturday we partner with a different local not for profit organisation to run a BBQ, with the proceeds from the day being donated to that organisation."
Gunnedah was a natural progression for the Valley Fasteners chain with a number of existing customers working on projects in the area. Also coming from a farming family background Kristy, Scott and the team are keen to develop product lines and supply chain networks that will assist with the agriculture sector, also supporting and creating local jobs.
"Encompassing job creation for local people and assimilating with the community is a core objective of each Valley Fasteners branch and Gunnedah is no exception,' said Kristy.
"To date the sales and management team consist of 3 full time and 1 causal employee, locals to the Gunnedah Shire."
The location of the store at 251 Conadilly Street sees Valley Fasteners progress into a new phase of retail selling, with the store layout encompassing the showroom and warehouse as one. Slightly different from their current business models, Kristy said they were excited at the new opportunity and the response from all facets of the community.
"Everyone has been 100% supportive it's a great reflection of the good people that live in the Gunnedah community," said Kristy.
The Valley Fasteners commitment to building a viable and sustainable branch in Gunnedah has been obvious in only the short few months they have been open. We can't wait to see them continue to grow within the Gunnedah community.