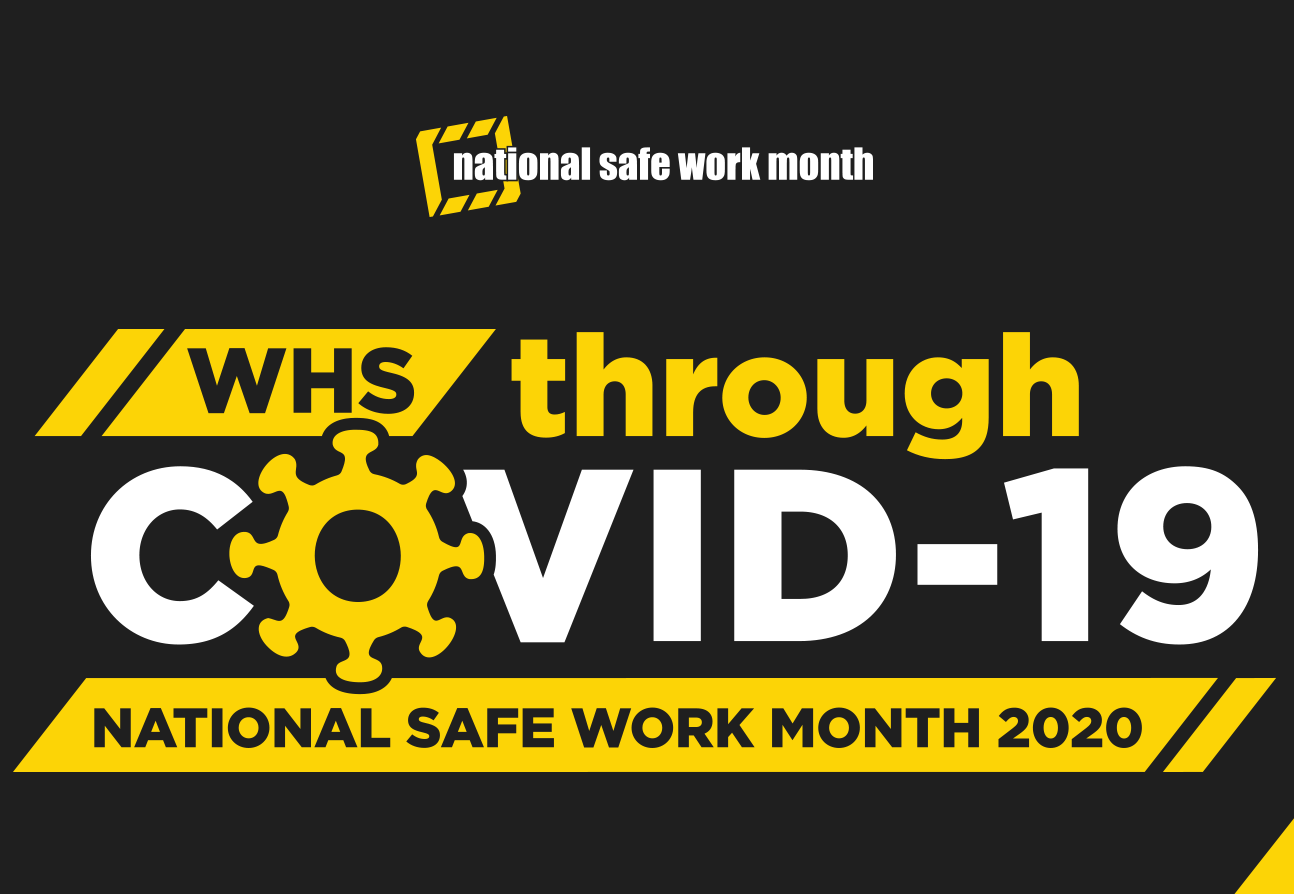 The Hunter Valley Mining industry has Sprung into action this October in celebration of National Safe Work Month. The focus this year – Work Health and Safety (WHS) through COVID-19.
Alfabs Group
To start off National Safe Work Month in Focus 2020, the Alfabs team got together in front of Alfabs Engineering at Kurri Kurri. Workshop and field service teams attended to support administrative staff rocking the Alfabs Zero Harm "12-month LTI-free" polo shirts. The team received their polos to kick off Safety Month in Focus the right way celebrating their achievement of 12 months LTI Free. Across 180 employees, Alfabs Group have focused on their commitment to constantly improve safety and make sure everyone gets home safe and well. Over the month, Alfabs Teams participated in toolbox talks weekly focusing on mental health, zero harm, improving safety within the workplace and keeping WHS a priority.
Jason Torrance, Group General Manager said, "It is fantastic to work with a team so committed and dedicated to ensuring we are all safe – we all spend so much time throughout the week within the workplace and seeing everyone action all safety measures and speak up when a safety hazard or risk is identified is great."
Titan Group
To spread awareness throughout National Safe Work Month the Titan Team utilised the online safe work resources. These have been displayed in their email communications and toolbox talks in conjunction with Titan Technician management who have used the resources to educate staff on site. All site supervisors were sent the National Safe Work Month check list to assess best practice WHS implementation.
"A primary focus throughout this period for Titan Technicians is the affect the pandemic has on the mental health and wellbeing of our workers, we are proud to say this is something we are passionate about in spreading awareness and we promote healthy and strong visible leadership daily on site to ensure our workers always have a safe space when things are tough," said Operations Manager, Matt Thrift.
Brunel
Brunel have been working together for health and safety this October. The team engaged in several challenges of exercise, meditation and colouring competitions, toolbox talks around fatigue, journey management, medical care, mental health and wellbeing.
"Without stating the obvious about how 2020 has differed from any other year, this year has made all of us at Brunel globally realise the importance of mental health and looking after ourselves," said Client Services Manager – NSW, Luke Thomsen.
"By looking after ourselves, we are looking after our friends and families to bring the best versions of ourselves to the workplace."
Programmed
Each year in October Programmed celebrates National Safe Work Month and uses the time to further focus on their commitment to improving health and safety in the workplaces. This year the Safety Month theme was 'Every Job, Every Time' – ensuring that teams and contractors stay safe every job, every time through awareness and job planning and preparation. Under this theme, Programmed addressed three key areas: Staying safe every job, every time, Maintaining good mental health and Personal Safety Leadership training.
​"This year, for the first time, we will also be inviting all our contractors to participate in Safety Month with the launch of our Contractor Essentials page," said Group General Manager HSE, Shah Abdul-Rahman.
"This page will contain their own Safety Month activities and all the resources they require when working as a contractor for Programmed."
Mayfield Group
Mayfield have had a multi layered approach to National Safe Work Month. Internally within the business, Mayfield have used Safe Work Month as a prompt to audit and update many of their policies and procedures to ensure they remain relevant and up to date with the ever-changing landscape. Kate Gore, Safety and Training Officer, took the opportunity to run through toolbox talk process with supervisors and re-establish the standards and expectations when delivering those talks. Out in the field, the supervisors and management team delivered field based toolbox talks on issues such as hazard and risk identification, fatigue and relevant alerts from the regulators as well as carried out an increased number of safety interactions with the team out on the job to ensure that they have a safe work environment.
"We have a very tight knit workplace here at Mayfield and our team are always looking out for themselves and their workmates," said John Hamson, General Manager.
"Our exemplary safety record really is a credit to the men and women out on the front line on a daily basis."
Mickala Group
National Safe Work Month for 2020 gave Mickala Group the opportunity to reflect on the important health and safety practices they implement day to day on site. Further to that the team got together to discuss opportunities for improvements in those practices to ensure their services are always provided in a safe, ethical and highly professional manner. Keeping their staff and clients safe by maintaining equipment to the highest standards is something they value every day of the year.
"Mickala has achieved its success through the ability, determination and passion of its people and keeping our people safe is our number one priority," said General Manager, Debbie Pedersen.