Have You Checked On Your Mates?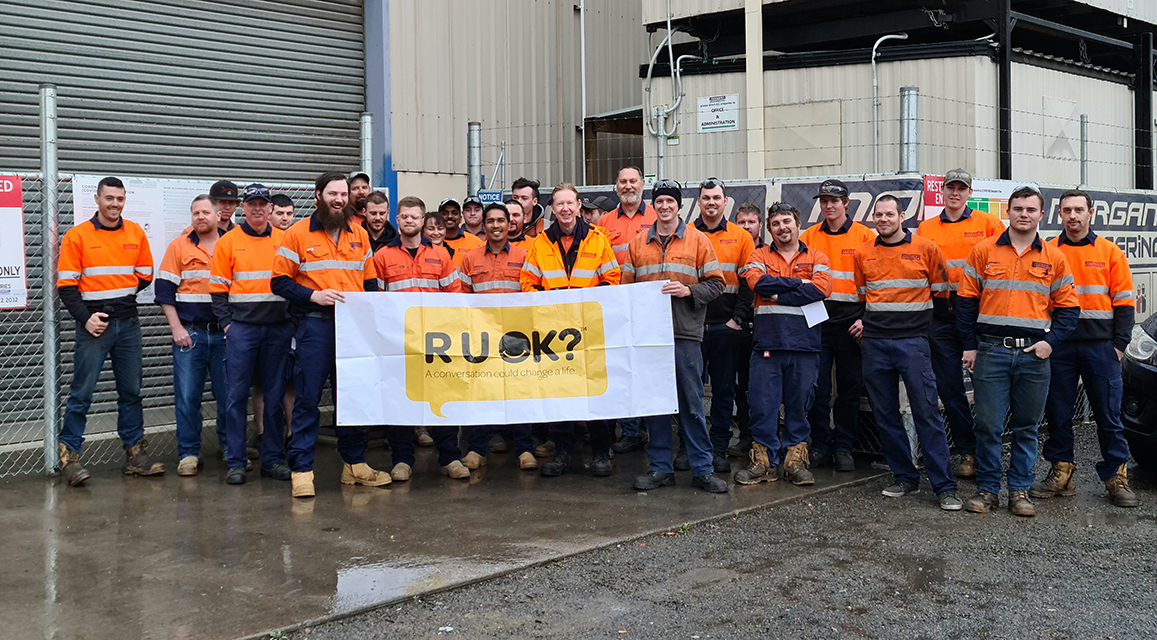 This year has been an absolute shocker and it's no secret that it has certainly taken a toll on all of our mental health in some way. R U OK? Day this year was more important than ever, and our mining companies and leaders went above and beyond to encourage employees to have meaningful conversations and connect with those around them. Let's remember to take care and reach out to our mates every day of the year.
McLanahan
This year with COVID-19 restrictions in place the McLanahan team's participation in R U OK? Day was a little different compared with previous years when they have hosted an R U OK? Day ambassador at their Newcastle premises.
Still wanting to make a difference, McLanahan donated over $2,000 to Craig Clarkes in his Coals to Newcastle Ocean Swim to raise money for Beyond Blue.
"Wow what an amazing generous donation from the McLanahan team. Hugely appreciate your kind praise and lifting the fundraising campaign over the $30,000 mark. Thanks heaps. I will be in touch."
All staff members received an R U OK? lanyard and a yellow iced cupcake with the R U OK? flag.
DK Heavy Plant Services
RU OK? – that is what everyone was asking in the DK Heavy Plant Services (DKHPS) Workshop on September 10.
Too often people struggle in silence, do not know what resources are available, or even where to start when talking about their mental health.
Sue Milton, General Manager of Upper Hunter Community Services, was able to share with the DKHPS workforce simple advice and resources on these issues and whilst together enjoyed a great afternoon tea and conversation.
Banlaw
To start the conversation, Banlaw grabbed some delish donuts for the team to enjoy, whilst taking time out to ask work mates R U OK?
"As you can see from our cheeky photo's, the donuts were a hit and a way for all areas of the business to mingle and remind staff the importance of prioritising their mental health and looking out for those around them," said Internal Sales Coordinator, Lauren Tonks.
With the combined efforts of their Newcastle and Perth offices, Banlaw successfully raised $216 for suicide prevention.
Northwest Mining
The team at Northwest Mining started the day bright and early with a mental health toolbox talk for R U OK? Day and encouraged the guys to participate by wearing their TradeMutt shirts – a workwear brand, with the mission to make the invisible issue of mental health impossible to ignore. 5% of TradeMutt's profits go towards 'This is a Conversation Starter Foundation'.
This led into a BBQ lunch for everyone, cooked by the company owner Shayne Clark. "We discussed some statistics on mental health and chatted about how to start conversations if you're concerned about someone's mental health," said Shayne.
"Everyone was keen to be involved and engaged in the conversations, it was a great day."
Bengalla
The Bengalla Team celebrated R U OK? Day this year, focusing on teaching people that there is more to say after the initial R U OK? It is important to keep the conversation going and check in on your work mates.
To support the initiative employees enjoyed a coffee and a Kit Kat before and after shift to start the conversation with their work mates. The four important steps include:
– Ask R U OK?
– Listen without judgement
– Encourage action
– Check in
It was an opportunity for team mates to check in on each other and it was well supported from all of site.
MACH Energy
R U OK Day saw Tom, Chloe and Matt take the opportunity to catch up over coffee and acknowledge that a conversation could change a life.
There was discussion around keeping an eye on your mates, actually asking R U OK? and what's next after you've asked the question. The team remembered there's more to say after R U OK? such as;
– How are you travelling?
– You don't seem yourself – I am here if you want to talk about anything.
– Have you been feeling this way for a while?
– Have you thought about talking to your doctor or a health professional?
– Just wanted to check in and see how you're doing.
Persas
The PERSAS team enjoyed each other's company during a BBQ and discussed the benefits of R U OK? Day, while social distancing of course.
One thing that was emphasised on the day was not waiting until the next R U OK? day to have open discussions regarding each other's wellbeing, instead keeping it as an open page where employees can talk to each other at any time.
Morgan Engineering
The R U OK day message is important to Morgan Engineering, but not only just one day a year. Mental Health is important to the Morgan Engineering workforce all year round. This year R U OK? Day coincided with the company's fortnightly Toolbox talk, and Business Development Manager Graham Sutton said that everyone got involved with the conversation.
"It was a great opportunity to discuss what mental health means to our company," said Graham.
"With many of employees on shift work and having to spend a lot of time away from their family and friends, it's important for the whole Morgan Engineering team to be there for each other and check on their mates."