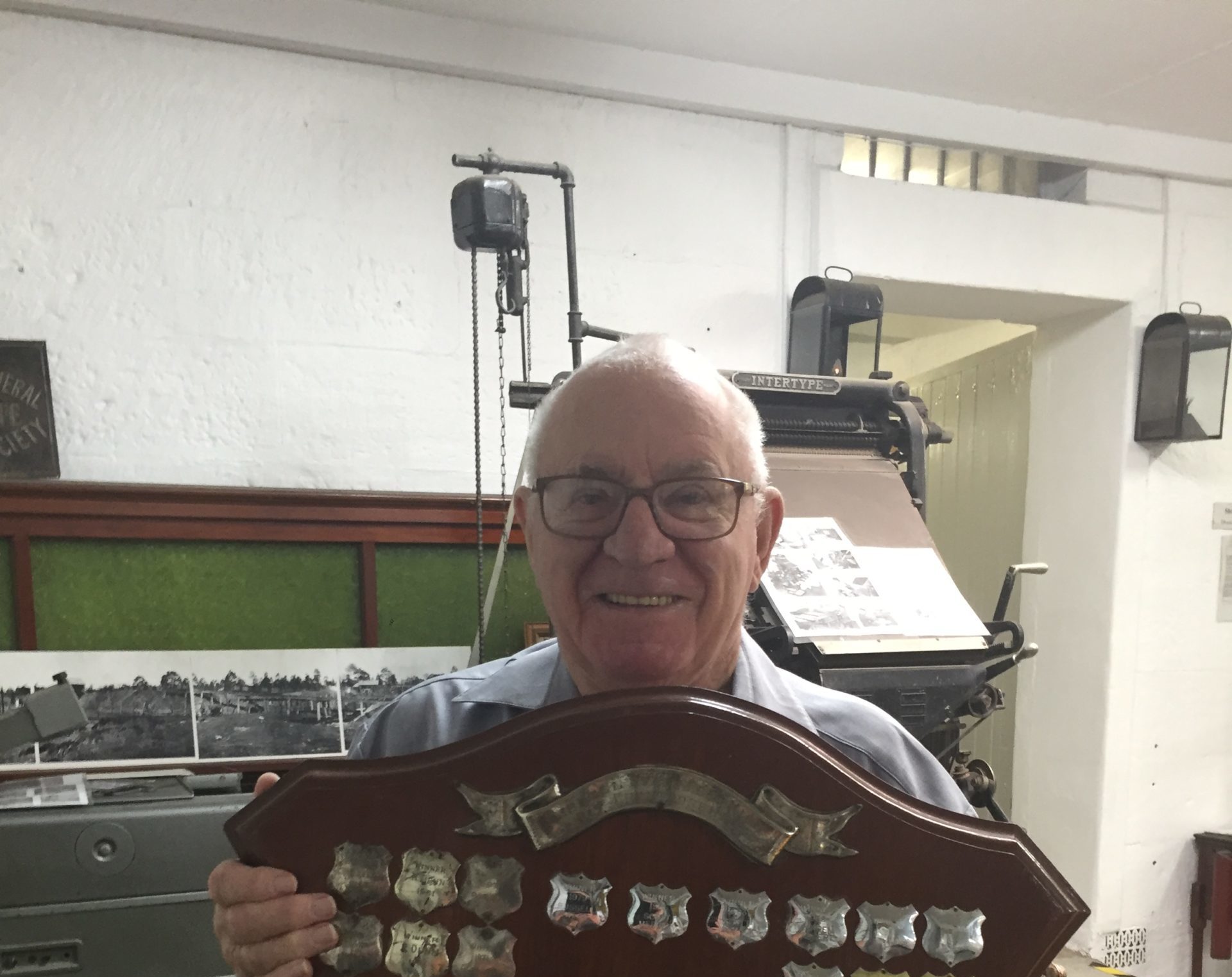 Retired coal miner and local history lover Pat Quinn was a longtime supporter of @ The Coalface. As most of you will know, a little over a year ago Pat passed away. Sadly, we did not hear about his passing until recently. Although it comes late, we pay tribute to a man that we admired greatly.
I first met Pat not long after starting with @ The Coalface. Pat was loquacious and friendly and I would happily sit and listen to him reminisce about his days in the industry. It didn't take me long to realise that here was a rich source of fodder for the magazine. Our very first history page was created to showcase the gear that Pat and his mates used to take underground at Liddell State in the 50 and 60's which he had lovingly kept. Pat then went on to help us with many more stories.
But it wasn't just Pat's incredible knowledge of our area's history and mining heritage that made a lasting impact on me. Pat epitomised what it was to be a miner. Hard working, loyal, genuine. He made me proud to be a voice for the industry.
But let's go back to the start. Pat came to Singleton in 1948 at the age of 10 and from that day Singleton would remain the place he would call home. Only a couple days after his 16th birthday he started at Liddell State Coal mine as apprentice electrical fitter. While he had wanted to be a teacher, his parents encouraged him to get a trade and even at that age a sense of responsibility was forefront in everything he did.
Though if Pat was going to do something he was going to do it his way. He knew the State Mine was looking for an apprentice carpenter but he wasn't keen on that so instead he took it upon himself to find out who the engineer was and ride over to his house on his bike. "I hear you're looking for an apprentice engineer", says Pat. "No, we aren't." was the reply. But lo and behold a couple of days later the engineer shows up at Pat's door and tells him he's hired. No doubt impressed with Pat's go-getter attitude.
Gaining a trade in the mining industry in those days was hard work. An apprenticeship was five years and the study for TAFE you did at your own expense. The pay wasn't great either, with Pat bringing home $4.25 a week. But as Pat said, you knew it would pay off in the end.
And it did for Pat. He stayed at Liddell State Mine for 18 years and those years working underground was where he learned first-hand the incredible bonds that are made between miners. He was there for the transition to Cummock Colliery and was there for the well-known fire in 1971 that ultimately led to the closure of the mine and the end of his underground journey.
Next for Pat was a short stint at Liddell Colliery before moving to Hebden Opencut for 9 years before his final move to Mt Thorley where he stayed until retiring after 41 years in the industry.
It was at Mt Thorley that Pat got to up his education. The engineer in charge left for Qld and Pat had only a few weeks to pass his engineers exams so he could be appointed electrical engineer in charge. He was proud to say he was the head leco in charge of everything from light bulbs to draglines.
When I would speak with Pat about his long career there was always one thing that shone through everything he said. Mateship. He would boast about the friends he made that remained mates for his whole life. He would regale me with stories of what they would get up to when he worked at the State Mine. The workforce was mainly locals and they socialised together outside of work and the stories Pat would fondly recount often involved a laugh. As he would say, in those days everyone had a laugh with each other, but it was always in good fun.
But it wasn't always good times, it was a hard and dangerous job. I remember Pat telling me, "You won't find a single retired mineworker who hasn't seen the worst of the job or has been on site when someone lost their life or a terrible accident has occurred." When I asked him why they would keep going back he looked at me like I was being stupid. "You always showed back up for your next shift because you never considered doing anything different."
To spend 41 years in an industry allowed Pat to see so many changes. He was especially pleased about the safety practices that he saw improve over the years. When he started not even boots were compulsory, no one knew first aid and there was no such thing as an induction. The work was hands on, you walked down the pit and out of the pit. You would never see a fat coal miner back in those days he used to say.
Pat married young in 1957, and had two children, Christine and Mark, with his first wife. But it didn't work out and in the early 60s he met Ann and they had a son, Matthew. He was so very proud of his whole family. A good education was important to him and he was so very proud of his kids and grandkids achievements.
When Pat retired, a new life started for him, one which quickly turned from interest to passion to love. Pat and Ann joined the Singleton Historical Society and for the next 20 years devoted countless hours to preserving the history of Singleton.
Also a member of the local Probus Club, Pat went on to develop town tours, escorting visiting historical societies and clubs around the streets of Singleton, regaling them with stories. He was always busy organising trips, guest speaking, researching and conducting the history tours. As he would joke, "Being retired means I'm busy 8 days a week!"
Ann shares the story how at the end of the Retired Mineworkers Association 50th dinner someone came up to Pat after his speech and asked him, "where can I buy the book." But there was no book, it was Pat's encyclopedia memory. Never one to rely on notes and never one to run out of things to say. If he didn't know the answer to a question you could bet he would soon find it.
A true lover of history, a dedicated husband and father, and truly generous in giving his time to community organisations, it's no surprise that Pat was a Citizen of the Year Nominee. It's just one of the many accolades he deservedly received.
Ann and Pat were married on September 6th, 1969. 1n 2019, on their 50th wedding anniversary, it also became the day that would be forever remembered as the day Pat passed away.
Pat, although you are no longer here with us your stories will stay with us forever.
Pat with his beloved wife Ann
---
IMG: Pat with the Liddell State Mine Shield which is proudly displayed at Singleton Museum