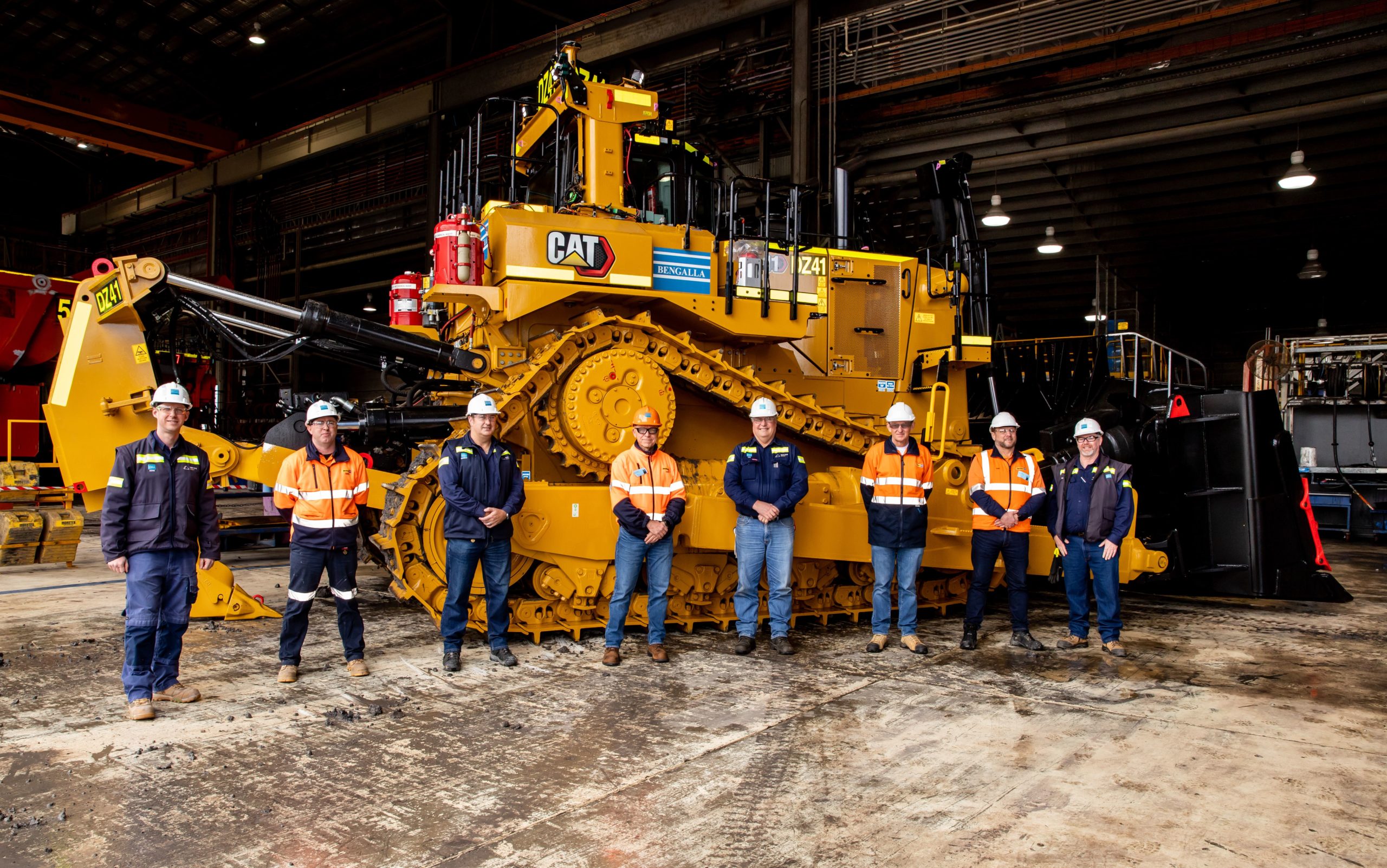 Next gen D11 dozers continue long history at Bengalla mine with more than 20 years and numerous additions and upgrades of the model.
In 1998, New Hope Coal's Bengalla mine purchased its first four Cat® D11 dozers, marking the start of a long relationship with the machines.
Last month the mine took delivery of the first of four D11 Next Gen machines from leading Cat dealer WesTrac. The first two are upgrades for retiring dozers that have clocked up tens of thousands of operating hours, while another two are being purchased to replace hired machines.
Maintenance Capital and Projects Specialist Ben King has worked at the Bengalla mine for more than 15 years and is well acquainted with all the D11 models that have been put to work at the site.
"They're a really good, reliable machine and very modular," Ben said.
"The operators really like them – they're a big 104-tonne machine that is suitable for ripping through hard rock seams and they're really well supported by WesTrac."
According to Ben, with the life of the mine now extended to 2039, the new Cat D11s will be put through their paces.
"Originally, we ran the D11s for about 5,000 hours a year and expected to get a total 50,000 hours out of them," he said.
"With the later models we're achieving about 6,500 hours per machine each year and do a mid-life rebuild around 7,500 hours and a full engine replacement at 15,000 hours before starting the cycle again.
"We expect to see even further increases in operational hours with the Next Gen D11s."
"The other thing we have to consider is that because the mine is so close to town, we've always had to be mindful of noise so these Next Gen D11s come factory fitted with sound suppression kits."
"From an economic point of view, they provide greater efficiency, improved productivity and a higher level of safety than their predecessors so there was no question that when we were ready for an upgrade, these were our number one choice."
"Even with coal prices reducing, our goal is to make money on every shipment and the new D11s are helping us achieve that."
According to Ben, the high-precision onboard Cat MineStar™ system, which incorporates a range of optional tools including Terrain for grading and Command for dozing, means operators could have their daily tasks pre-determined based on research and technical data.
"Our technical teams can upload data and instruct the operators on the most optimum ways to work for every shift," he said.
"It provides some real productivity gains to ensure we continue to keep the cost per tonne down."
While on holiday in the USA last year, Ben toured the Caterpillar® factory where the dozers are built and was able to see some of the machines destined for Bengalla moving through the production line.
"I've been involved with the D11s since I started at Bengalla 15 years ago and was closely involved in getting up the business case for the purchase of the latest machines, so I feel like they're my babies," he said.
"Having the opportunity to see them being manufactured was something quite special."
WesTrac NSW and ACT Executive Officer Greg Graham and General Manager Mining Jody Scott were on site at Bengalla for delivery of the first Next Gen D11.
Greg said input from longstanding clients such as New Hope Coal had been instrumental in helping WesTrac work closely with Caterpillar to incorporate a range of previous aftermarket additions as factory fitted options.
"New South Wales has some of the most stringent safety compliance requirements of any mining jurisdiction in the world," Greg said.
"For that reason, WesTrac and our clients have worked closely with Caterpillar to see a number of features being incorporated into the equipment design rather than added later."
Jody said some of those options included fire suppression systems and the ground-level electrical centre. "Fire is one of the biggest safety issues on NSW mine sites and those in other states," he said.
"Incorporating these systems with OEM input is a significant advantage when it comes to robust performance and rapid response in the event of an incident."
"Likewise, if clients can opt for ground-level electrical controls to be factory fitted to new equipment, there's a greater level of convenience and assurance than if they are fitted later."
---
IMG: Adam Freeman (Bengalla – Mobile Maintenance Superintendent), Simon Allan (WesTrac NSW – Mining Support Manager), Warwick Gloster (Bengalla – Maintenance Manager), Greg Graham (WesTrac NSW/ ACT – CEO), Cam Halfpenny (Bengalla – General Manager), Jody Scott (WesTrac NSW / ACT- Mining General Manager), Gary Rayner (WesTrac NSW- Mining Business Manager), Ben King (Bengalla – Maintenance Capital and Projects Specialist) at the delivery of a new Cat D11 Next Gen dozer