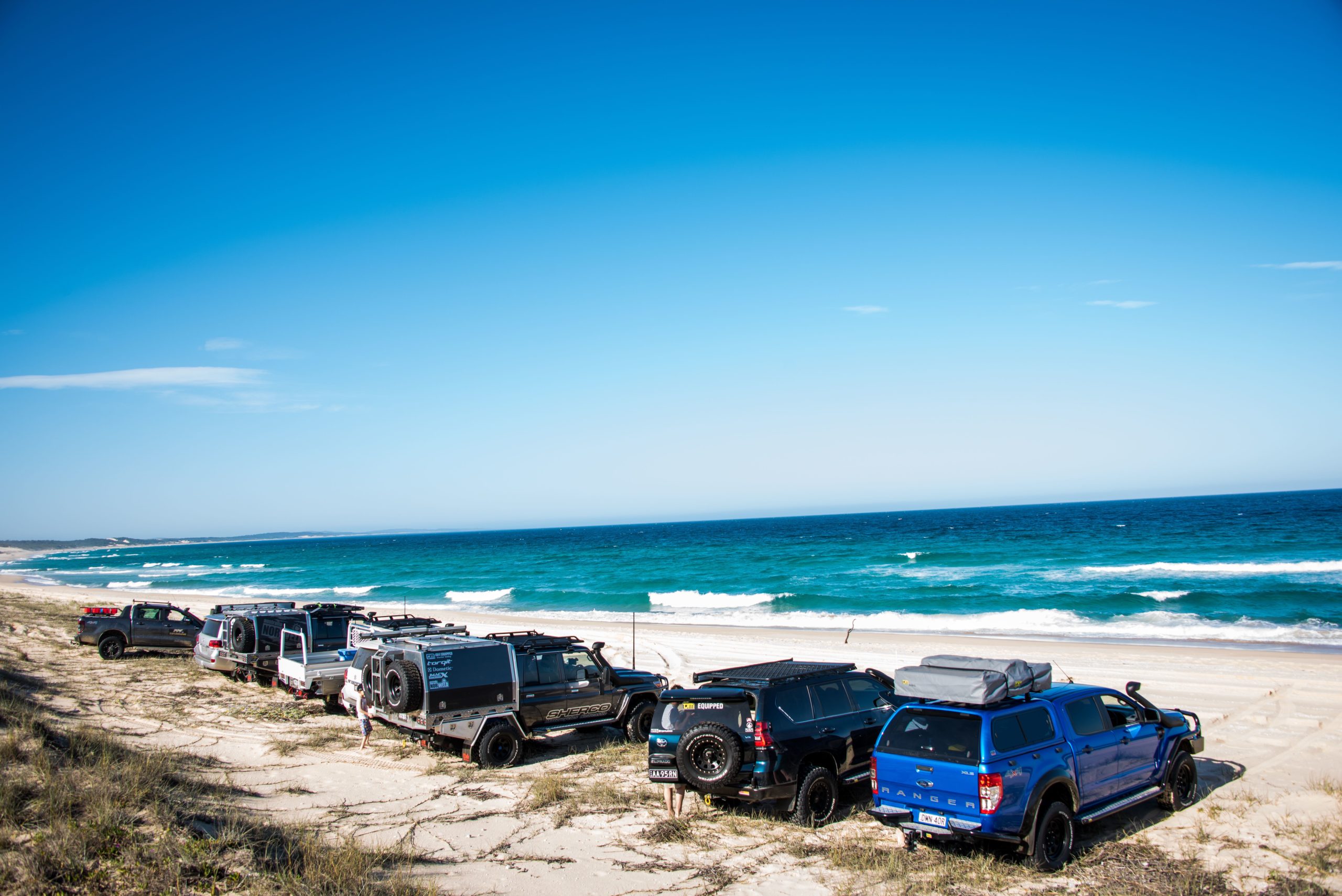 With all that's going on in the word right now including overseas and some interstate travel being off the cards, spending some time exploring your local 4WDing tracks has never looked more appealing. If you've just spent up on a new rig set-up and are ready to go, but not really sure where to start – then this article is for you!
What to Take
Whether you're driving a standard 4WD or something highly modified, you're going to want pack some basic recovery items. Most people don't go out with a plan to get bogged but eventually the inevitable is going to happen. It's nothing to fear however, and providing you're well prepared, most situations will just require a bit of elbow grease and a bit of recovery gear.
A shovel is the most underrated piece of recovery equipment and sometimes you would be surprised at what can be achieved by digging out around stuck components. If you're travelling solo, a set of recovery tracks are a must. Placed under the wheels of the vehicle when you are bogged, they are the cheapest option for performing a self-recovery and will get you out of 90% of situations.
A winch is the ultimate self-recovery tool and will get you out of 99.9% of recovery situations and is worth factoring into your budget when buying a 4WD. Otherwise, you'll want to take a snatch strap, with a couple of rated shackles and have a rated recovery point to snatch off. The most common type is one that slots into your towbar hitch receiver. A tyre deflator and portable compressor are also handy tools for lowering and raising tyre pressures.
Where to Go
The beauty of the local area is the abundance of tracks, but if you travel in any direction for a couple of hours, you will find a whole lot more. If beach driving is your thing, you'll want to check out either Stockton Beach, Lemontree Beach or Blacksmiths Beach. Although Blacksmiths is the closest, it's also the most challenging and we recommend cutting your teeth on Stockton or Lemontree first if you're new to the game. The sand is generally harder packed and easier to drive, especially if you're in a standard 4WD.
Permits will be required to access these beaches with Stockton passes issued by Worimi Conservation Lands with a list of places you can purchase permits at https://worimiconservationlands.com/beach-driving/. Lemontree Beach will require a National Parks Pass available online https://www.nationalparks.nsw.gov.au/passes-and-fees . Blacksmiths Beach will require a permit issued from Belmont Wetlands State Park with a list of outlets you can purchase from on their Facebook page.
Tyre pressures are a crucial a part of spending less time bogged on a beach. On most hard-packed beaches, lowering pressures to 18psi will be adequate to give the tyre a bigger bulge and longer footprint in the sand so that it floats over the sand rather than trying to cut into it. Softer beaches require lower pressures – 15 or even 12psi. Be sure to re-inflate tyres back to normal road going pressures once off the beach.
If you're looking at tackling bush tracks in the local area, the Watagan Mountains is a great place to start. There's a maze of easy tracks within the national park and state forest and mild tracks such as Greens Break Rd to wild tracks such as CTP80.
Adjusting tyre pressures to suit the terrain will also help here and we always recommend having an experienced spotter to guide you through tight, rocky and slippery terrain. Picking the right line to get you through obstacles can be much easier when someone outside the vehicle can see exactly where you're placing your wheels.
Being well prepared and setting your vehicle up right is the key to hassle free and enjoyable 4WDing and luckily, we live in an area that has a wide range of 4WDing experiences. Joining a 4WD club is also a great way to learn the 4WDing ropes and meet like minded people with some local knowledge and experience. Whatever way you look at it, it's a perfect time to get out there and start enjoying your 4WD.
THANKS TO TJM HUNTERVALLEY, OUR 4WD EXPERTS