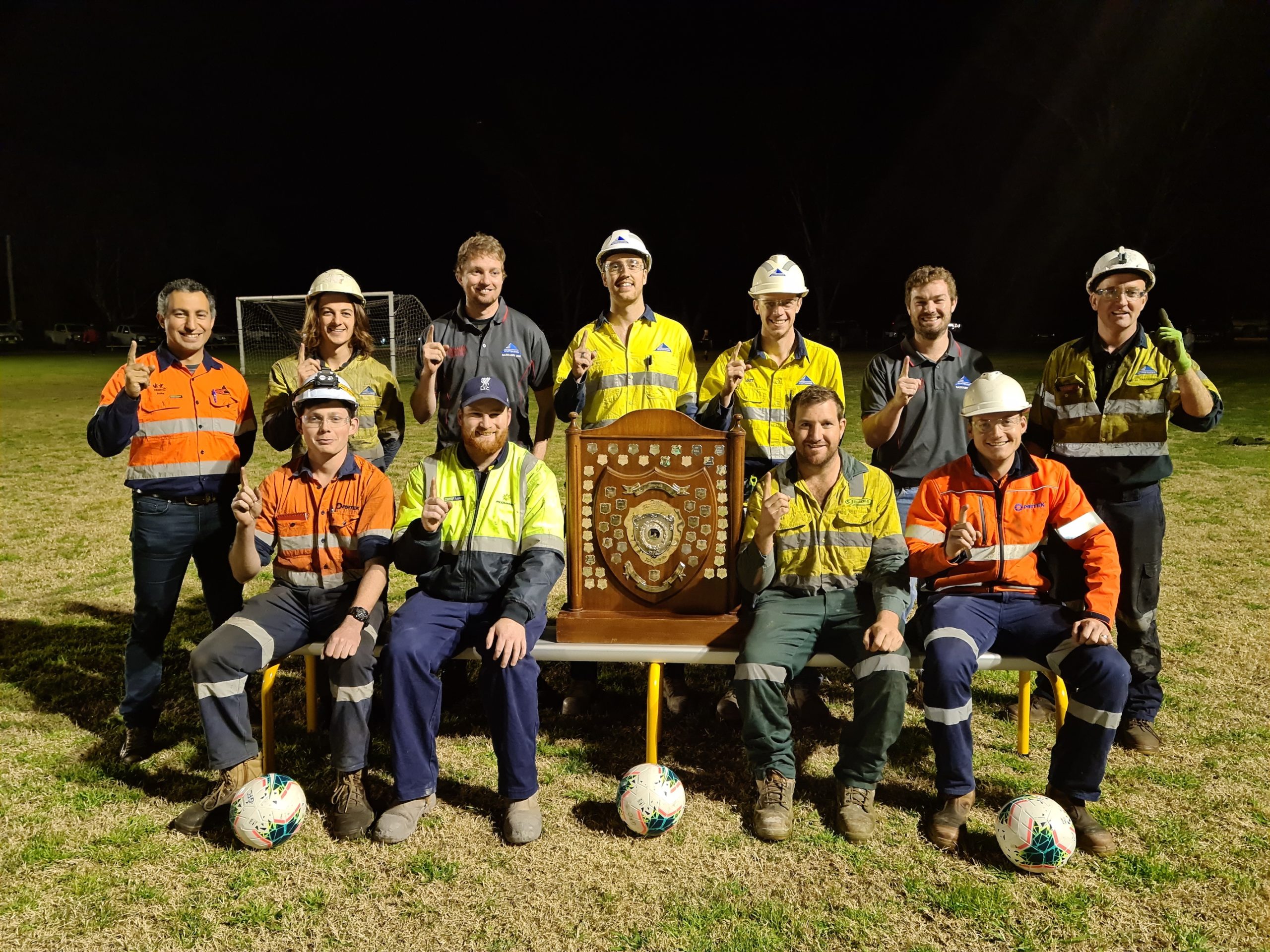 There's no shortage of mining industry professionals at the Gunnedah and District Soccer Association, with currently 11 players taking their teamwork from the mine site to the soccer field.
Five years ago, the Gunnedah and District Soccer Association discussed the idea of a new senior team in town and the Gunnedah FC was formed entering the local Tamworth comp in both first and reserve grade.
Heading into their fifth year in 2020, the senior team has welcomed a total of 11 players working in and around the mining industry and it's clear that teamwork has played a major role in their success.
Over the 4 years, the first-grade team has made the grand final each year winning twice and taking out the league title in the first 3 years and runner up in 2019.
The reserve grade team have had equal amounts of success, getting better and better each year. They won 23 games straight in 2019 to win the league and grand final double.
This year both grades have made the step up to the Premier competition in Tamworth and Electrical Engineer Coordinator at Whitehaven Coal and Gunnedah FC's first grade coach Andy Cygan is feeling good about the finals. "It certainly has been a bit of learning, but we are adapting to the big league," said Andy.
"The reserve grade side is currently sitting 2nd on the ladder and first grade just outside the top 4, but we expect to make the finals."
Originally from England, Andy played semi-professional soccer (or football as Andy says) and had worked for 9 years in the UK mines before moving to Australia in 2005. "It was football (soccer) that really got me the job out here funnily enough," said Andy.
"The mine manager was over in England interviewing people and had been out for a meal with someone who knew me; we were both involved in the same league."
"I coached when I was in England and have always wanted to go down this path once my playing days are finished."
When Andy first arrived in Australia he worked in Moranbah, Central Queensland. He ended up playing representative soccer for Mackay where he travelled up and down the Coast to play teams from Cairns, Townsville, Gold Coast and Brisbane. "This was a big commitment whilst working in the mine with a 2-hour drive to training twice a week and away each Saturday," said Andy.
And that commitment and passion for the game has followed him to the fields in Gunnedah.
With 25 years working underground in the mines, Andy said you certainly inherit the teamwork that comes with working in the industry. "You always have your mates back whether its underground or out on the field."
Although it's hard to manage changing rosters, the team somehow make it work and players do their best to make as many training sessions and games as possible, with training sessions running twice a week.
Covid has not made it easy for the passionate squad and at one stage it was unsure whether they would go ahead with the season. But with a plan put in place they managed to get back into training whilst maintaining social distancing and only touching the ball with their feet. "I have been very impressed with the Covid plan both at work and with the soccer club," said Andy.
"We have managed to get our junior comp to go ahead which was a massive bonus to the kids in town that love the game.
"On the first week we had over 100 children turn up and I can certainly say the handful of coaches had their work cut out for them."
But Andy said that none of it would have been possible without their sponsors. "I'm lucky that working in the mine has allowed me to attract major sponsorship from ADS (Australian Drilling Systems) and our local pub the Gunnedah Courthouse Hotel who have been with us since the start and also sponsor the junior competition."
Other sponsors include two Newcastle based companies ARC Mining and ALFABS Engineering who have generously sponsored the senior side. Gunnedah Leather Processors (GLP) also sponsor the club.
Andy concluded by praising someone who has been by his side throughout his 25 years of mining and playing the game; his wife Helen. "She gets the brunt of my moods after poor games or when the team isn't doing well," he said.
"She became the clubs secretary over a year ago and had a massive hand in securing a grant for club upgrades and I am proud of what she does for the club."
"Mentioning her might get her to stay next year!"
Following in his footsteps, Andy's three children are also playing. Andy coaches his sons 5/6's team and absolutely loves it.
It's amazing to see so much passion for the sport from Andy and the rest of his team members. Let's hope to see both Gunnedah FC senior teams in the finals for 2020!