Victoria Police officer thrown from reversing car in dramatic video footage – ABC News
Video posted to TikTok shows a police officer being thrown from a reversing car onto the roof of another car. A 30-year-old man faces charges including assaulting police.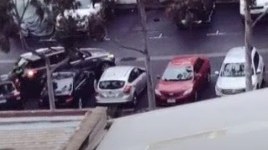 A man has been arrested after dramatic footage showed a Victoria Police officer being flung in the air from a reversing car.
A 30-year-old St Kilda man has been charged with a raft of offences
The police officer suffered minor injuries and is now in isolation, due to COVID-19 fears
The Victorian Police Association praised the bravery of the officers
The officer avoided serious injury, but is now in isolation because of fears he was exposed to coronavirus du…