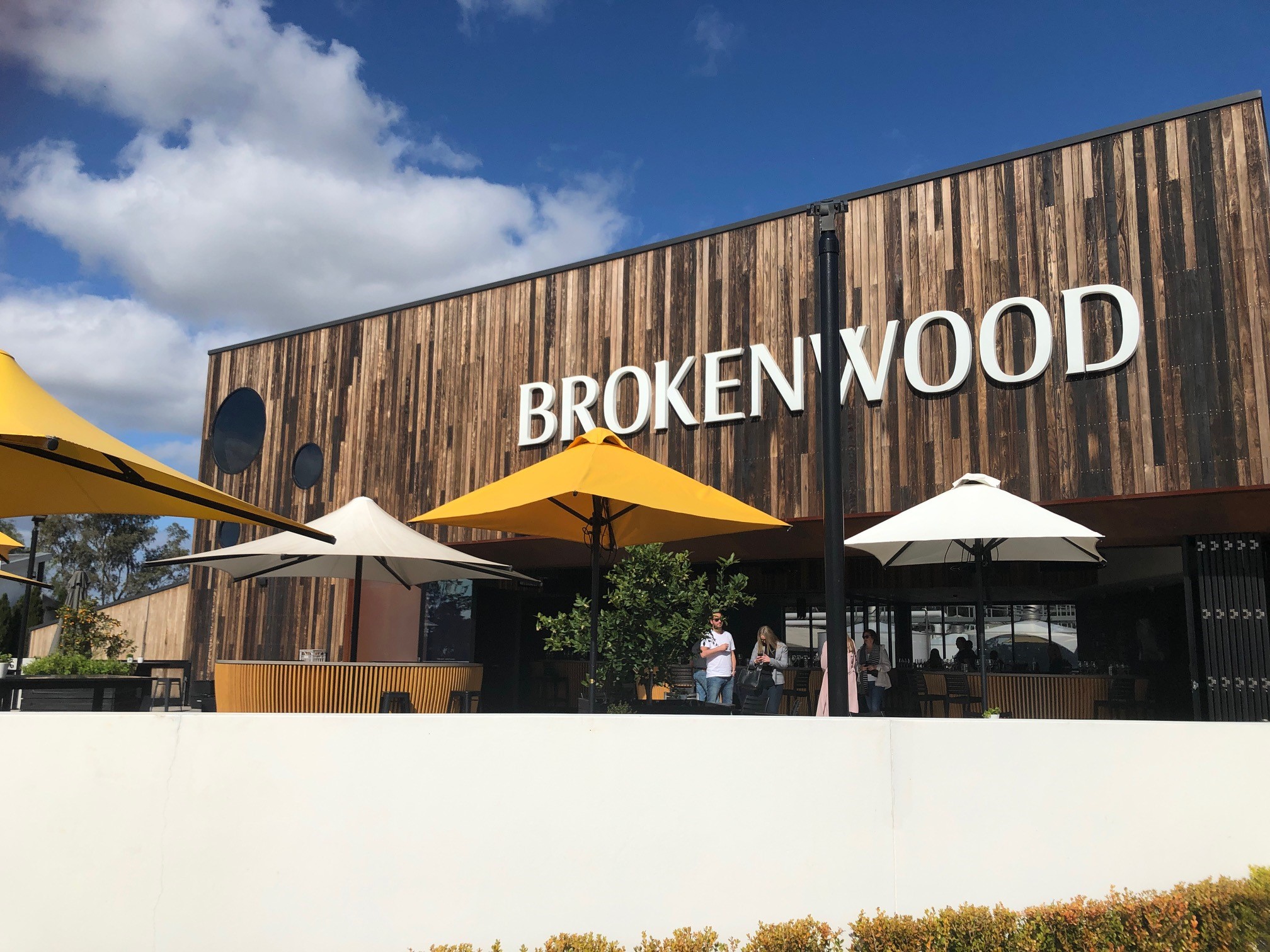 Are you struggling from a combined case of the mid-winter and COVID blues? Looking at the calendar thinking what do we do? Well, let me bring your attention back to the fact that we are sitting on the doorstep of one of the world's most sought-after destinations.
Let me also bring your attention to the fact that… wine tasting is back baby!
After being forced into lockdown in the early stages of the pandemic, Hunter wineries are back open with a new way of enjoying a tipple or two.
Driving through wine country never ceases to put a smile on my face and a spring in my step and being welcomed back to our local cellar doors is a wonderful feeling.
In true Hunter Valley style, every winery in our region has gone above and beyond to create an amazing experience despite facing new challenges.
So what's involved with wine tasting in a COVID world?
Well, according to Brokenwood's Operations Manager, Candice Crawford, it's about experience and safety.
"It has been a process to set up," Candice explained. "However, we have got it working well and everyone is very grateful to be back open including staff and visitors."
Book ahead! Candice said that way you won't be disappointed. Tastings, which are seated only, are limited to 45 minutes which allows for a 15 minute clean between groups which Candice said people are more than happy with.
"You do have to book your spot, give your details for contact tracing, answer some simple questions and from there the staff will ensure you have a wonderful, safe experience."
And experiences is something that this and other Hunter Valley wineries have adapted to as they shift their tasting experiences to fit the current climate.
While we may not be able to prop up the bar and work through the catalogue like before, at Brokenwood you can now enjoy a range of sit down tasting sessions which give you a more relaxed and focused tasting.
Their 'Matching' experience where you can enjoy six wines and 6 canapés for $60 is in high demand or perhaps take it to the next level with the two hour 'Brokenwood Journey' which includes a tour of the sprawling facilities, a different selection of wines and canapés and all hosted and in a private space.
"The small group size is a great benefit (max eight)," Candice said as she showed me through the private dining areas, "it creates and intimate, personalised experience and most importantly it's very safe."
Now don't go thinking you have to leave the kids at home to have a great time out at the wineries.
Some playgrounds have reopened at venues and if its energy they need to burn off well you can't go past Roche Estate where the kids can run and kick a ball while you sip a glass, it's a fantastic way to dream away a cool winter's afternoon.
But if that's not enough and you're looking for something a little more adventurous, perhaps taking a tour of a vineyard with a llama is for you! Yes, you read that right, an actual llama!
Every Sunday for the month of August, the team at Ben Ean Estate are giving you the chance to stroll through the vineyards with a llama! The adventure begins at 10am when you are introduced to your llama and will spend some time getting acquainted. Staff will teach you how to lead the llama and general llama handling and safety tips.
Once you've got to know each other, participants will head off for an hour walk (approximately 3km) through the vines with the beautiful backdrop of the Broken Back Mountain range surrounding the vineyard. Don't forget the camera, there will be lots of opportunities for photos!
On return you can enjoy a taste of two at the cellar door and a gelato from the Hunter Belle Dairy Co.
From llamas to take-home degustation's and virtual wine tastings, our Hunter wineries have adapted remarkably to the rapid changes thrown at them through the pandemic and while the school holiday period was busy, now is the perfect time for locals to get out and enjoy what our wineries have to offer.
I must admit, with so many health concerns and travel so limited around the state and country, and as I sip on a crisp local vintage looking out over the sweeping vineyards with the mountain ranges falling behind and the warmth of the winter sun soaking into my skin, I feel so lucky to have this just on our doorstep.
So, the next time you think what can we do? Pick up the phone, make a booking and take the time to enjoy our very own wineries, it will have you coming back, time and time again.
Happenin' in the Hunter is brought to you by Nicky Ainley, Editor of The Hunter App. Download The Hunter App for all your up to date info on what's happenin' in the Hunter!