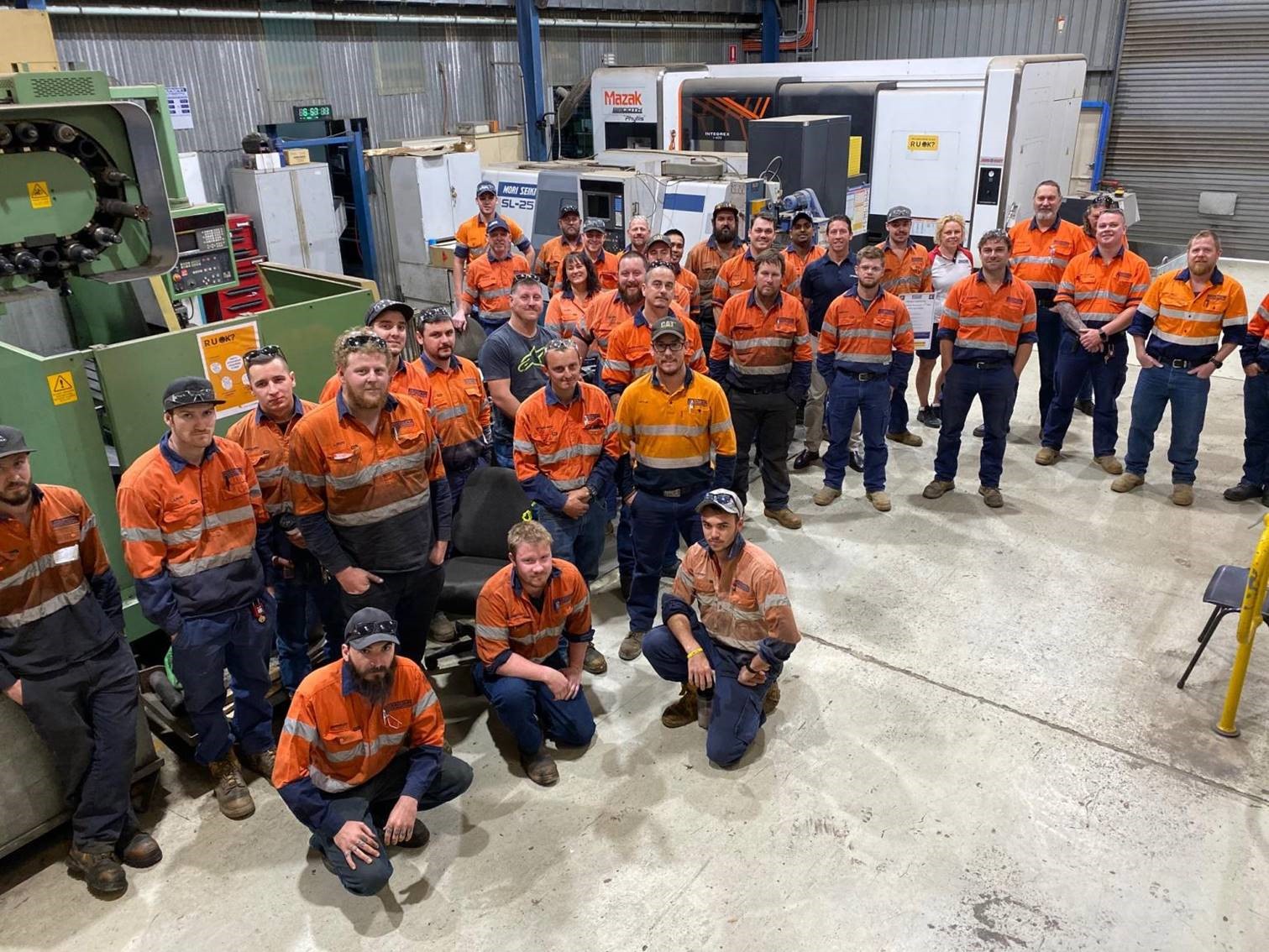 @ The Coalface caught up with Morgan Engineering to find out what it takes for a family owned business to succeed in our industry.
Morgan Engineering have come a long way since their humble beginnings. In the mid-1970s, Ross and Carole Morgan bought 159 Maison Dieu Road for just $375. (which works out to 6 cents a square metre!) When they started the small family business they had no idea of where it would eventually take them.
Chelsea, Martin and Matthew grew up working in the business after school, on weekends and during school holidays. Over the years they each found their own niche in its operation and today Morgan Engineering is run by sibling directors, Chelsea, Martin and Matthew, assisted by their recently appointed General Manager, Jeremy Brett.
But it's not always been an easy road. Not long after the siblings took over the business in 2005 the mining downturn hit and the future looked rocky. But instead of cutting back they decided to continue to invest in the business and forge their way through.
Matthew and Martin began building their first line boring truck, ME01, which was commissioned in 2010. They are especially proud of the fact that ME01 and all their subsequent line boring trucks demonstrate industry best practice.
Their investment in state of the art CNC machines has also paid dividends. They managed to pick up their third CNC machine during the last mining downturn. Everything they do is part of their commitment to invest in building capabilities to benefit their customers even when times are tough.
These investments have seen the company go from strength to strength and the future looks bright for Morgan Engineering. They've outgrown their current work areas and are in the middle of building a fantastic new facility that will increase their welding and fabrication capacity including a custom designed sandblast and paint area.
The new space is six times larger than the existing facility and the sheer size of the new facility along with the 63-tonne overhead crane will allow the company to work on much larger components from start to finish.
But it's not just equipment that they invest in.
"We openly admit that without our loyal workers the company is nothing," Chelsea said.
"It's taken a long time and a lot of energy to craft the work culture that we have today. Family comes first and we treat them all like they're family."
"At the end of the day our employees are our biggest asset," Martin said.
"We try to put them in roles where they can be used to their highest and best purpose, where they will be challenged, and then let them know that they are valued."
And it's working. They constantly have people approaching them for work and have staff who have relocated huge distances, as far as Queensland, Perth, England, and even Glasgow for the opportunity. Today they have grown to employ 51 staff and they are especially proud of the fact that even in the tough times there have been zero involuntary job losses at Morgan Engineering.
"We also have 7 apprentices because we believe that fostering future generations' skills is something very valuable," Chelsea said.
"We even have plans down the track to become an RTO so we are able to provide even more training pathways."
After growing the business to the best of their ability, the next step for Chelsea, Martin and Matthew was to appoint Jeremy Brett as GM and draw on his experience to take it to the next level. It's obvious that the Morgan's mean business when it comes to growth and it isn't something they expect to fall into their laps or happen by accident, but through hard work, planning and teamwork.
After recently completing a vision project, which they say it was well worth it to ensure they are all on the same page and working toward the same goals. A family owned business with a corporate structure; they strive to be, "Big enough to matter, yet small enough to care". Their whole vision is underpinned by high values and a positive empowering culture.
One way they do that is by being active in the community. Whether it's sponsoring sporting teams or events like the Black Dog Ride, or just getting out there and handing out food during the bushfires, it's about showing you care about the community you live and work in.
Although you will see them spending in the community and putting a lot of money back into the business there's no splashing of cash around in a lavish way and the siblings attribute that money management to their father's influence. They all agree that "Dad taught them everything about Morgan Engineering and Mum taught them everything else".
Ross and Carole imparted more than financial management to their kids though.
"There was never any special treatment for being family," Martin said.
"It was sink or swim with Dad. We were all expected to do what needed to be done and it's worked."
Matthew believes that the biggest thing their father imparted to them was the importance of quality.
"He was a stickler for quality. Quality products, quality workmanship and quality people."
When asked what inspires them to come to work every day each of the siblings has their own perspective. Chelsea immediately says it's the people. While working from home during COVID she admits to missing the interaction with her work family on a daily basis.
For Matthew, it's about the legacy of the family business and his plan to leave something even bigger and better for the next generation. For Martin it's the love of building things and seeing projects come together.
As for working with your siblings every day, Matthew says you just have to put your emotions in your pocket sometimes.
"We get together outside of work with all the cousins playing together. We all make it work as a family and as a business."
It was hard not to get caught up in the enthusiasm this family owned business has for the future and we can't wait to see what's next for Morgan Engineering.