Fitzroy Island shark attack culprit off Queensland more likely to have been giant trevally, says marine biologist – 7NEWS.com.au
A marine biologist has weighed into reports of an attack, revealing what 'giant' marine creature could actually be behind the mystery mauling.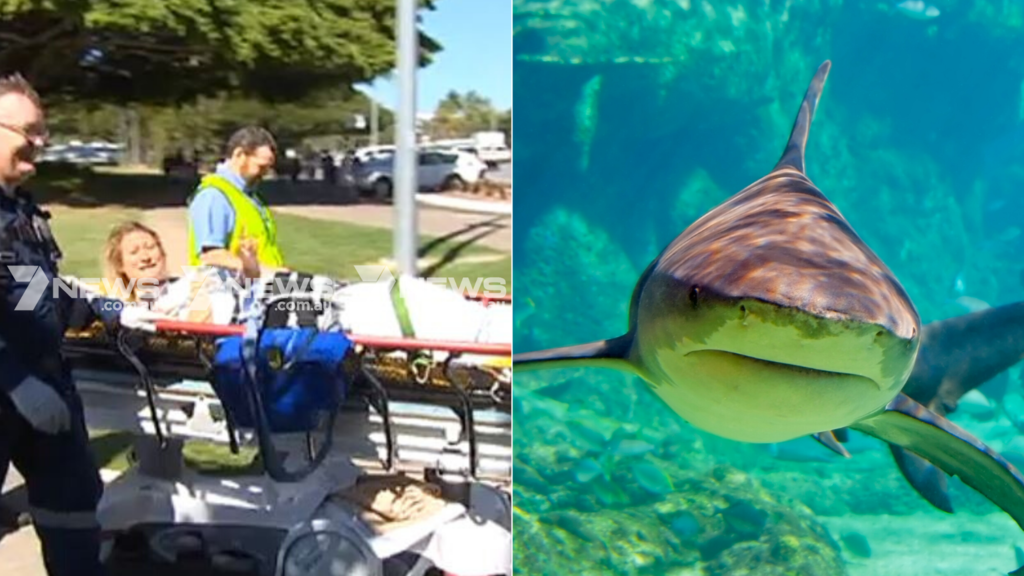 It is highly unlikely a woman who suffered leg lacerations and possible fractures off far north Queensland was mauled by a shark, a marine biologist says.
The 29 year old has been airlifted to Cairns Hospital in a stable condition after being attacked off Fitzroy Island, near Cairns, about midday on Tuesday.
Watch the video above
Its understood she had been aboard a private boat and is a shark documentary-maker.
She is believed to have suffered significant leg injuries.
Bystanders, including doctors who were guests at the Fitzroy Island Resort, applied a tourniquet to stop the womans bleeding before paramedics and a rescue helicopter arrived.
Queensland Ambulance Service believes the woman was attacked by a shark.
The shark attack victim has been airlifted to Cairns Hospital in a stable condition. Credit: Queensland Ambulance Service/Twitter/Supplied
But Fitzroy Island Resort chief executive Glen MacDonald says there has been no way to tell what attacked the woman.
No ones actually seen a shark, that were aware of, he told reporters.
(She) herself admitted she hadnt seen anything either.
In the video below: Woman speaks after being attacked by shark off Queensland
A woman has appeared in good spirits as she was taken to Cairns hospital for treatment after being bitten by a shark.
She was just aware shed been bitten, but was unable to confirm it was a shark.
She had three little bites on left leg, down towards ankle.
Fitzroys never had any evidence of shark attacks in the past. Fitzroys not known as a breeding ground or habitat for them.
Gareth Phillips, marine biologist from Reef Teach, agreed there was a very low likelihood it was a shark.
A woman in her 20s being wheeled from the rescue helicopter to Cairns Hospital after being attacked by a shark. Credit: 7NEWS
The description of the wounds, and Ive seen a number of shark attacks in my career, was not conducive to that, he said.
Theres a strong chance it was either a giant trevally or a red sea bass.
File image of a giant trevally. Credit: MookMook/Getty Images/iStockphoto
He said the fish are known to bite humans, with giant trevally capable of inflicting lacerations and fractures.
The victim told reporters, I still love sharks. Sharks are beautiful, as she was was being wheeled to the hospital after landing in the rescue helicopter.
She also gives a thumbs up gesture.
Paramedic Terry Cumming said the woman had been swimming on a day off about 100 metres from a jetty when the apparent shark attacked.
She ended up with a possible fracture of the left ankle and some lacerations, he told reporters.
File image of Fitzroy Island near Cairns, where a woman was attacked by a shark on Tuesday. Credit: John Crux Photography/Getty Images
She was in a little bit of pain but we managed to get that under control.
Shes great. Shes in there smiling and very happy, he said.