Best Burgers on the Block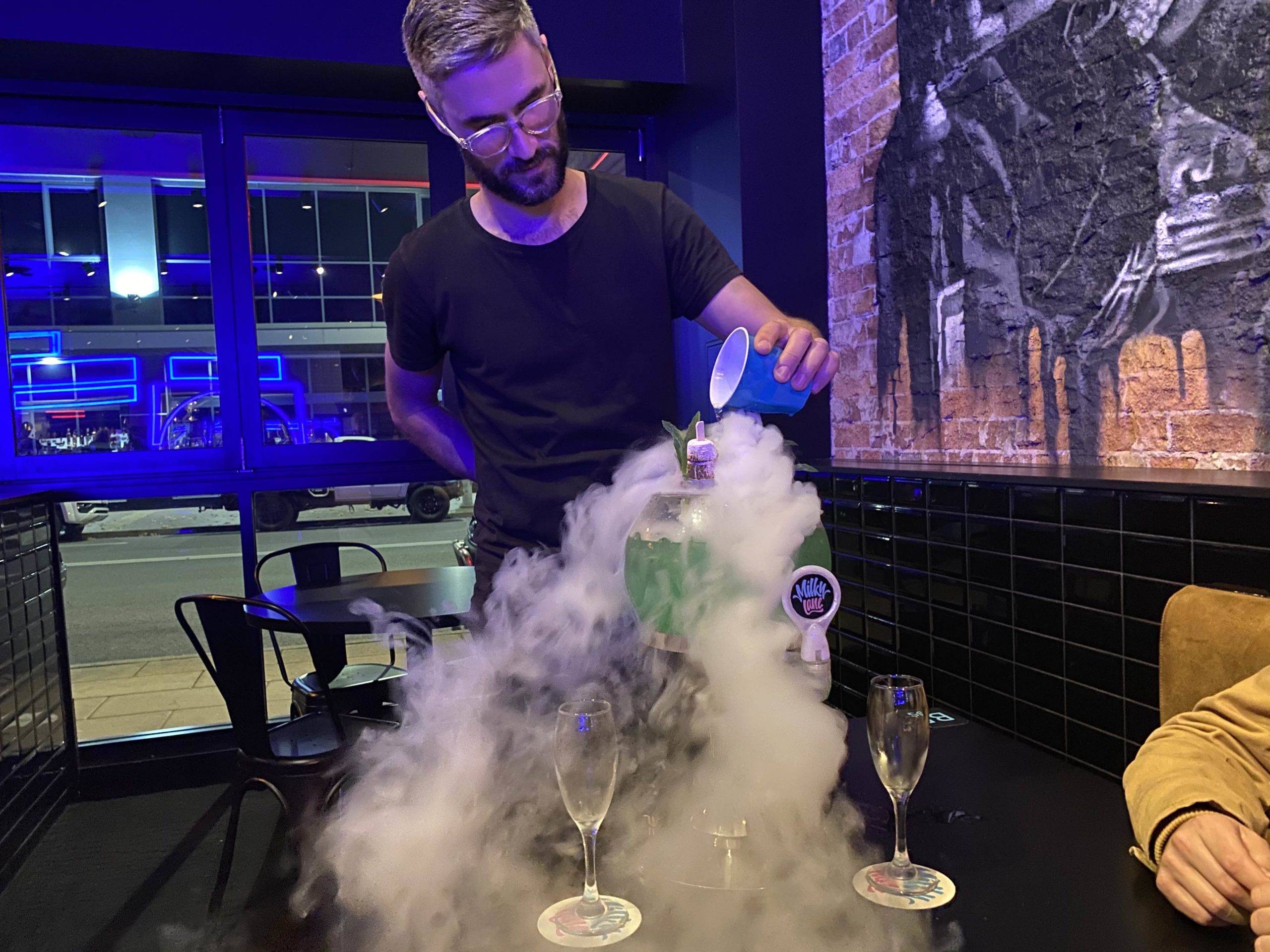 Milky Lane on Darby Street, Newcastle is an experience of its own with an artistic hip-hop atmosphere and over-the-top menu truly unique to the Hunter Valley.
The hip-hop don't stop as you walk into Milky Lane on Darby. As you step inside, amazing portraits of the likes of Notorious B.I.G, Snoop Dogg, 50 Cent, Rihanna and the legendary Tupac cover the walls in old school graffiti style. It's like taking a step back in time to the classic days of Hip Hop and Rnb.
A mix of modern Hip Hop and RnB tunes fill the room as you're led to your seat by the waitstaff. This I must comment on – the service was sensational. A lovely lady by the name of Raddy was our hostess for lunch and she didn't miss a beat.
Mum decided on the Big L Burger stuffed with chargrilled free-range organic chicken breast coated in Portuguese chilli marinade, swiss cheese, peri peri sauce, garlic aioli and shredded iceberg lettuce. She also ordered the limited edition loaded Bueno shake. I ordered the Pop-Korn Chicken with crispy pieces of southern fried chicken served with cheese gravy dipping sauce. I also ordered the Loaded Fries with beer battered chips, bacon bits, shredded cheese, shallots, cheese gravy and milky lane special sauce.
Of course, I couldn't go past their famous cocktails, so added on a Dolla $ign Spritz mixed with 42 Below Vodka, sparkling wine, golden kiwi, apple, lemon and soda, garnished with an apple fan.
Our drinks and loaded fries arrived, and we dug in. Now we all know that drinking too much of your milkshake before your meal is never a good idea but drinking too much of a loaded milkshake…my gosh. Mum squeezed in half her burger when it arrived (and it was a monster).
As I watched Mum slip into a never seen before satisfied food coma I dug into my Pop-Korn Chicken. The chicken was unbelievably tender and perfectly paired with cheese gravy dipping sauce. The cocktail was, and I cannot stress this enough, one of the best cocktails I have ever had. It was fresh, fruity and had the perfect mix of ingredients to tingle my taste buds – what an absolute treat.
Lunch turned into a dinner days later, as my partner and I visited again on a Friday night…time for the 10 serve cocktail bowl!
I ordered the Milky Lane Burger loaded with char grilled premium quality Australian beef pattie, double American cheese, butter leaf lettuce, pickles, diced onions, sliced tomato, ML Sauce and Ketchup with bacon. My partner ordered the Kevin Bacon Burger filled with double char-grilled premium quality Australian beef pattie, double American Cheese, double crispy maple smoked bacon, ML BBQ sauce, ML truffle aioli, caramelized onions and pickles. We also added from the sides the Bacon Mac & Cheese Croquettes and the Loaded Mash Potato Balls.
Finally able to have a drink or two, we shared the Alize Passionfruit Spritz share cocktail with Alize Bleu, Bacardi Carta Blanca, sparkling wine, passionfruit, mint, lemon and soda. Served over dry ice, it reached our table and the show was spectacular as the cocktail overflowed with white fog. The fruity flavour went down like water.
Similar to my lunch experience, dinner was equally, if not more amazing. "This is amazing, even the bun is like butter it's to die for," my partner said after the first bite of his burger.
And honestly, I cannot fault the service, food or atmosphere both during the day and into the night. As my partner said at the end of the night as we staggered our way to the Uber, "that was hectic".
Check out Milky Lane Newcastle on Facebook @MilkyLaneNewcastle.