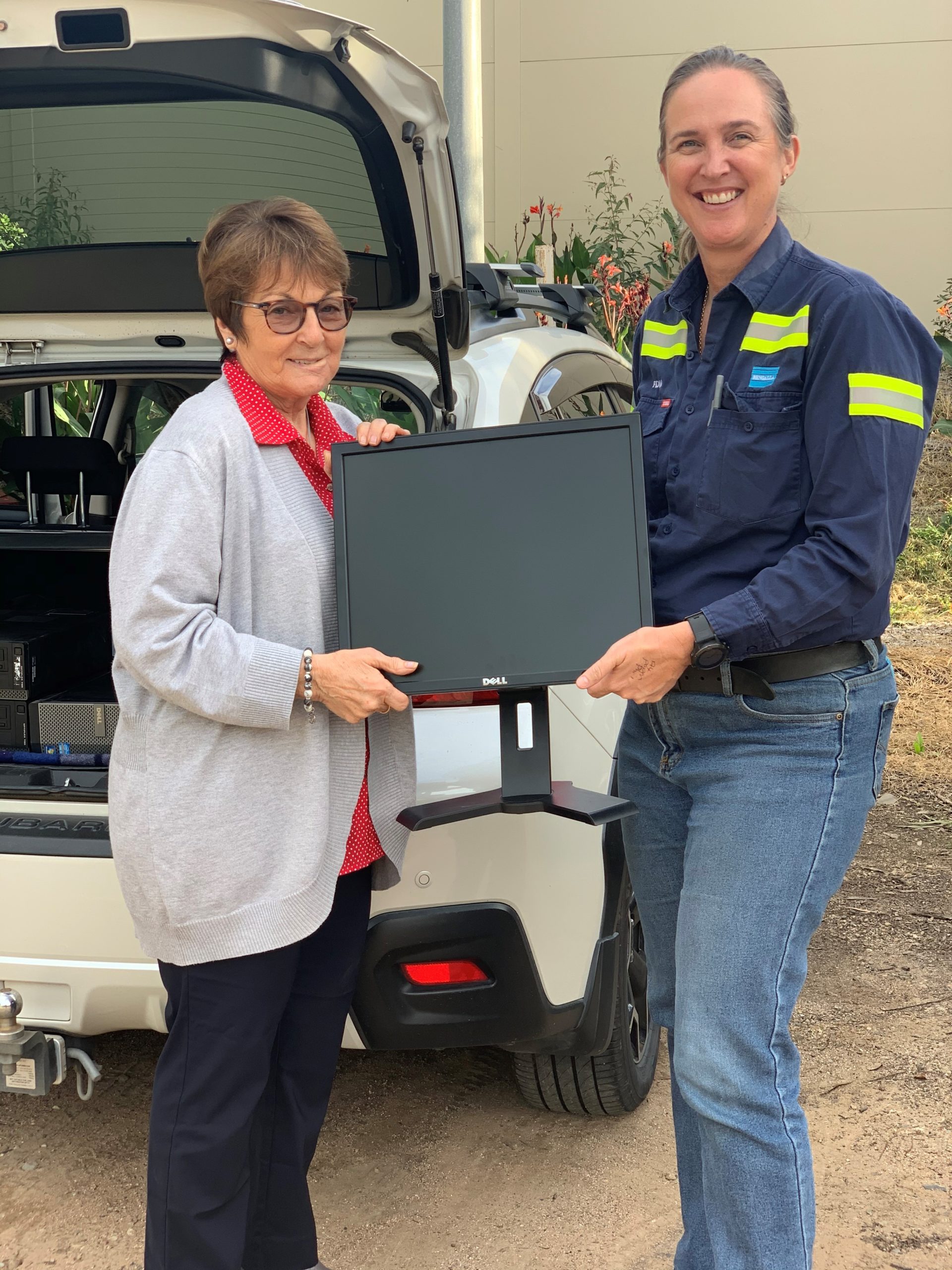 Bengalla Mining Company has generously donated much needed funds and equipment to the Upper Hunter Community Services (UHCS) to help support our local community.
The UHCS do fantastic work in our community supporting individuals and families who need assistance. During this time of COVID-19 with some people losing jobs or hours at work, their support has been more vital than ever.
Bengalla has generously provided a $10,000 sponsorship to UHCS which will allow them to help even more families in this time of need.
In additional to the funds, Bengalla also donated a number of computers which the UHCS was then able to give to families to assist them during the time of home schooling. For families without access to a computer, the already difficult task of home schooling was made almost impossible, so the computers were very welcomed.
Bengalla have been long time supporters of the UHCS as they've seen firsthand how important the services they provide to the local community are.
"We are simply thrilled to be able to provide this assistance to UHCS," Bengalla Community Relations Specialist Fiona Hartin said.
"They make a real difference in the lives of so many people in our community. The support that they offer is year round, but now more than ever, more people are needing assistance.
"A huge thank you to Mel, Sue and the whole team at UHCS, they really are an inspiration," she said.
For over 20 years the UHCS have been providing community and social services to the Upper Hunter community.
UHCS Manager Mel Atkinson said they couldn't do it without support from companies like Bengalla.
"We are so appreciative to Bengalla for their support. With this much needed funds we will be able to assist people in the community who have experienced a loss of income due to COVID-19," Ms Atkinson said.
"Assistance is being provided in a holistic and practical way as well as linking community with UHCS services."
"Plus to have the donation of the computers which allowed us to assist families to access online learning from home was terrific.
"A big thank you to everyone at Bengalla."



UHCS bring together the capability and resources of 12 services across the Upper Hunter; Aboriginal Family Worker, Emergency Relief Program, Group Worker (parenting groups), Muswellbrook Neighbourhood Service, Family Support Service, Youth Development Officer, Justice of the Peace, Community Capacity Building, Hunter Park Family Centre, MOOSH (providing out of school hours childcare) and Toybox (a mobile rural playgroup for rural and remote families).
In addition to these services UHCS offer a huge range of groups with trained UHCS staff such as SMART Recovery (Addiction), Anger Management, Adult Literacy, Parenting workshops, Love Bites (Domestic Violence and Sexual Assault education aimed at Year 10 school students, Life Skill programs, Cooking Classes, Playgroups, Music Playgroup for Young Parents, coordination of the Mental Health Professionals Network Meeting.
You can find out more about the amazing services provided by UHCS at www.uhcs.org.au or by calling 02 6542 3555.